The February employment report will likely be seen as a watershed moment in this recovery and perhaps for the 2004 Presidential election as well. Not only did the disappointing gain of only 21,000 jobs last month stun most economists, who had confidently forecast a gain in the range of 125,000, but the continued weak pace of hiring also ensures that the economy will be a major, if not the biggest, issue in the upcoming fight for the White House. In addition, the February shortfall, along with downward revisions to both the December and January data, raise the critical question: Why aren't businesses hiring?
An offshoot to that question is equally important to the outlook: Will weak job growth derail this recovery? After all, if consumers can't find jobs, or if they feel worried about their employment prospects, they could snap their wallets shut. A consumer pullback could be a disaster for growth: Bear in mind that it was sturdy household spending, along with the rush to buy homes, that kept the U.S. economy above water even as capital spending weakened and a record pace of inventory cutbacks subtracted from economic growth.
Traditionally, consumer spending has been tied to job prospects, so the weak labor market cannot be discounted as a drag on the recovery. But at this stage of the business cycle, another economic force may prove more powerful than the historic jobs-spending link. Government actions will act as a bridge that will help the economy cross over this extended valley of almost nonexistent hiring. Public policy, not private hiring, will be the key support for demand in coming months.
TRUE, LOW INTEREST RATES and tax cuts are typical government responses when the economy needs help. What makes current policy so extraordinary is the aggressiveness of both the Federal Reserve and the Bush Administration.
The Fed has kept the federal funds rate at 1% for nine months. The real fed funds rate -- the funds rate minus inflation -- has been negative for 1 1/2 years (chart). A negative real funds rate is a sign that Fed policy is very accommodative. You have to go back to the late 1970s, when the U.S. was recuperating from the severe 1973-75 recession, to find Fed policy so easy for so long a period.
Likewise, fiscal policy has been very conducive to growth. In real-dollar terms, the 2003 Bush tax plan was the third-largest since World War II, according to the Tax Foundation. Altogether, the three stimulus packages since 2001 have transferred a large 2% of national income from the government to the private sector.
Although both fiscal and monetary policy have yielded more growth in demand and will continue to do so, the Fed's actions cast a wider net. Low rates have allowed businesses and consumers to clean up their balance sheets, and they have financed purchases of big-ticket items, from homes to cars to capital goods.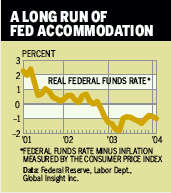 For businesses, cheap money has enabled them to improve their finances and profitability, which in turn has boosted the fortunes of shareholders. According to the Fed's latest data, nonfinancial corporations took on little debt in 2001 and 2002 and then increased their liabilities by just 4.2% in 2003. At the same time, better cash flow, along with the start of some inventory building, pushed up their assets by 5%, with financial assets up 6.8% last year.
As a result, corporate net worth hit a record $10 trillion at the end of 2003. This increased wealth, along with easy financing and expected good profit gains this year, will give businesses the means to keep expanding their capital-spending plans. That will be a significant plus to real gross domestic product this year.
Low rates have also prodded banks to become more flexible in their lending standards. That means short-term financing will be available for the inventory accumulation that's going on now. Such rebuilding should add at least one percentage point to real GDP growth in both the first and second quarters.
SO FAR, POLICYMAKERS have indicated quite clearly that they are in no rush to begin removing any of this stimulus flowing through the economy. Indeed, the sluggish job market should stay the Fed's hand longer than was expected just a few months ago. This wait-and-see attitude will hold down long-term yields as well. That's especially true since inflation remains tame, thanks to globalization and continued productivity gains.
Consumers have taken advantage of cheap yields to refinance existing mortgages and free up extra cash for spending. Fannie Mae (FNM ) estimates that cashouts from refinancings last year totaled $140 billion, and a previous Fed study indicates that almost all cashout money is spent. While this year's pace will probably not be as lucrative, refi applications have stayed strong in the first quarter, suggesting that the windfall for demand will continue to some extent at least into the summer.
Then there's the way low rates have boosted housing demand and home values, while at the same time consumers are seeing gains in their stock portfolios and mutual-fund holdings. Household net worth has recovered all of the losses taken after the collapse of the stock market. Given estimates that households spend 3 cents to 5 cents of every dollar of sustained wealth, the rebound in net worth is another reason to expect consumer demand to grow even without a surge in jobs.
CONSUMERS HAVE ALSO benefited from the extremely stimulative fiscal policy. The 2003 package generated about $61 billion in tax cuts, most of it going to individuals. The initial cuts, including the rebate checks for child tax credits, began flowing through the economy last summer. That's why taxes as a percentage of personal income plunged to just 10.3% in January (chart).
Now the second leg, big tax refunds, is kicking in to boost demand. According to data from the Internal Revenue Service, tax refunds approved by early March averaged $2,182, or 4.4% larger than refunds at the same time in 2003. Economists estimate that when all is filed and done, the amount refunded this year will be 25% to 30% greater than last year's total.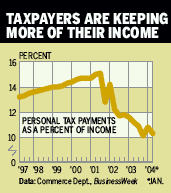 Other fiscal moves will also help. Accelerated depreciation tax allowances, set to expire by yearend, will prompt many businesses to go forward with capital-spending projects rather than wait. And the cuts in capital-gains taxes provide another boost to stock prices, generating more wealth for households and corporations, which will lift demand further.
To be sure, the recovery cannot continue forever without a big pickup in jobs. And many economists and others have raised concerns about the long-term effect the tax cuts will have on the U.S.'s ability to meet its rising domestic and foreign obligations. Plus, higher state and local taxes are offsetting some of the stimulus from Uncle Sam.
Still, for here and now, the economy could use some extra momentum, and it is not getting it from the job market. So for the first half of the year at least, aggressive public policy will have to trump reticent private businesses and keep this recovery going.
By James C. Cooper & Kathleen Madigan
Before it's here, it's on the Bloomberg Terminal.
LEARN MORE