Look Who May Be Courting Bioenvision
By Gene G. Marcial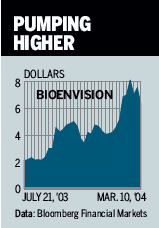 More and more suitors are eyeing Bioenvision (BIV ). Three weeks after Bioenvision, of which George Soros owns 27%, was featured as a buyout target in this column on Feb. 9, Genzyme (GENZ ) agreed to acquire ILEX Oncology (ILXO ), lifting shares of other biotechs -- including Bioenvision.
Now, Genzyme may be interested in Bioenvision as well. Why? In 2001, Bioenvision licensed to ILEX the right to co-develop and market in the U.S. and Canada its Clorfarabine, a drug for leukemia. Bioenvision still holds the rights outside North America. The company will soon file for Food & Drug Administration approval of Clorfarabine, which has a $1 billion market potential, according to David Luci, CFO and general counsel, who sees an O.K. this year. Also from Bioenvision, Modrenal is sold in Britain for breast cancer. Clorfarabine alone, based on analysis of the Genzyme-ILEX deal, is worth $600 million, or 15 a share, says a fund manager who declined to be identified and owns shares.
He expects Genzyme will move ahead of prospective suitors -- including Bristol-Myers Squibb, Cephalon (CEPH ), and Schering (SHR ). If Genzyme waits for FDA O.K., it may have to pay more. The stock, at 5.02 on Jan. 28, rose to 8.13 on Feb. 1. It's now at 6.40. Genzyme says it's talking with Bioenvision only about its ILEX acquisition. Bristol declined comment.
Note: Unless otherwise noted, neither the sources cited in Inside Wall Street nor their firms hold positions in the stocks under discussion. Similarly, they have no investment banking or other financial relationships with them.
See Gene on Fridays at 1:20 p.m. EST on CNNfn's The Money Gang.
Before it's here, it's on the Bloomberg Terminal.
LEARN MORE