Is The Kingdom Out Of The Doldrums?
Stocks are hot, and even hiring may be set to pick up. That may ease social tensions
The office off Riyadh's main drag looks like any other business establishment in the Saudi capital. There is plenty of polished wood and soft leather. But the conversation is out of the ordinary.
Mohsen Al-Awajy, a lawyer with ties to the kingdom's Islamic opposition, has been trying to broker a cease-fire between the government and militants, whose comrades have been responsible for horrific bombings in the past year and other violent incidents. He judges that the extremists are in trouble. After some 600 arrests of al Qaeda-style operatives, they are down to perhaps 20 men capable of organizing new attacks, along with hundreds of supporters. But those on the loose are extremely dangerous. One has told him that he has a ton of explosives and is determined to kill Americans.
It has been a trying year or so for the Saudis. First they worried that the war in neighboring Iraq might somehow spill over their borders. Then, for the past 10 months, the kingdom has been locked in a near-civil war between the government and the extremists. The signs are everywhere. Streets are blocked off, checkpoints dot the capital, and armored personnel carriers rumble along the perimeters of residential areas housing foreigners. Yet there are also encouraging signs amid the tension. Economic activity has remained remarkably strong. Oil prices averaging above $30 a barrel have been crucial. But the government's efforts to encourage the private sector are paying off as well. Saudi leaders think a strong economy is the best hope for curing unemployment and social ills that help breed Islamic militancy. Some Saudis say the violence may actually spur further positive changes. "I think what happened united people," says Mohammed Abanumay, a businessman whose family has interests in real estate and manufacturing.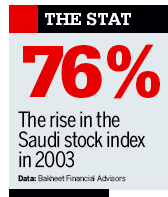 The red-hot Saudi stock market is one major indicator of revived business confidence. Despite the war in Iraq, the Saudi all-share index rose by 76% in 2003. So far this year, share prices are up an additional 10%. Investors bid up Saudi Telecom Co. by 149% last year, betting on fast-growing demand for communications. Other favorites were Saudi Arabian Basic Industries Corp., a giant petrochemical exporter, and Saudi Electricity Co.
Bashr Bakheet, managing partner of Riyadh-based institutional money managers Bakheet Financial Advisors, points to monster profit growth as the main source of oomph. With gross domestic product growth coming in at a strong 6.4%, profits for the top 20 companies, accounting for more than 90% of market capitalization, rose by 80% last year. Bakheet thinks earnings could spurt an additional 20% to 40% this year. Mohammed K.A. Al-Faisal, president of Al Faisaliah Group, which is owned by a branch of the royal family, says the company's consumer-electronics business has been growing at close to 8% annually, while its dairy-products unit, Al Safi-Danone, is moving ahead at around 10% a year.
`A HIGH LEVEL OF OPTIMISM'. Domestic investors and consumers are the key. With a fast-growing, youthful population, the Saudis snap up everything from fast food to electronics. The demand for sophisticated services such as telecom, information technology, and health care is also growing fast. Bruised by the crash of NASDAQ in the U.S. and frightened of having their money frozen by Washington, the Saudis are also more inclined to invest as well as spend time and money in the kingdom than they were just a few years ago. Traffic in Riyadh begins building as early as 7 a.m., and while Saudis are still wary of going out at night, they are beginning to shrug off security concerns and visit elegant shopping centers such as Al-Faisaliya. While quick to blast U.S. efforts in Iraq, the Saudis are also relieved that the Iraqi regime fell quickly, with little impact on the kingdom next door. "Quick victory with no spillover effect was the trigger for the stock market going up," Bakheet says.
Western embassies remain on high alert for attacks. But many executives are betting that the government is gaining the upper hand over the extremists, although analysts think more bombings are likely. Both Saudi corporations and prospective foreign investors are growing bolder. Brad Bourland, chief economist of Saudi American Bank in Riyadh, says early indications are that corporate borrowing will jump this year after a long period of sluggishness. One reason: The kingdom is finally starting to ink gas exploration, power, and water-purification deals after scrapping its grandiose natural-gas initiative last year. Those deals will eventually pump billions of dollars in foreign capital into the economy and boost business for local companies dealing in everything from accounting to construction. "I have just done a series of client calls, and I found a high level of optimism," Bourland says.
The government had put much of this development agenda on hold for five years while trying to persuade Western companies such as Exxon Mobil Corp. (XOM ) and Royal Dutch/Shell Group (RD ) to take on gargantuan gas exploration, water, power, and petrochemical projects costing tens of billions of dollars. Now the government is breaking the components into bite-size portions. In the latest development, Russia's Lukoil (LUKOY ), China Petroleum & Chemical (SNP ), and a consortium of Italy's ENI and Spain's Repsol YPF agreed on Mar. 7 to spend $600 million to $800 million exploring for gas in vast, remote tracts of Saudi desert.
While a few hundred million is only a fraction of the investment that the Saudis are seeking, at least the logjam has been broken. In another encouraging sign, the often inscrutable Saudis handled the new gas contracts in a relatively straightforward manner, posting the details of both winning and losing bids. Guido Michelotti, ENI's worldwide exploration chief, told BusinessWeek that the Saudis' conduct of the gas bids was "above average."
The Saudis are moving much faster on economic issues than in more contentious areas such as holding elections, removing religious fanatics from jobs as teachers, and empowering women. In 2003, the government, which has suffered from a lack of fiscal discipline in the past, ran a surplus of $12 billion. That helped hike foreign exchange reserves to almost $60 billion. Riyadh has a shot at wrapping up negotiations to join the World Trade Organization this year. And the Saudis have established a regulator for the securities markets. Once a board for this Capital Markets Authority is appointed, initial public offerings will be easier, boosting Saudis' limited investment opportunities and allowing a corporate bond market to emerge.
The government's economic policy is fueling the stock market, too. Last year's $4 billion partial privatization of Saudi Telecom provided a big boost. Now the government is working on awarding a second mobile telecom license to a private company -- probably a consortium of Saudi investors and an international operator such as Vodafone Group PLC (VOD ) or Orange.
BUREAUCRATIC OBSTACLES. Encouraging as all these developments may be, Saudi Arabia is far from an entrepreneur's paradise. Plenty of bureaucratic obstacles remain to investment -- a situation that may have led to the recent resignation of Prince Abdullah bin Faisal bin Turki, governor of the Saudi Arabia General Investment Authority. The kingdom still looks to be falling short in its crucial effort to reduce unemployment, which Bourland pegs at 13% for Saudi males. The large numbers of unemployed Saudis are easy marks for recruiters from militant cells. Bourland forecasts that the private sector, now the main engine of job creation, will grow at about 4.5% this year -- less than the 6% needed to absorb the 150,000 or so Saudis coming into the workforce each year.
But Bourland, who is considered the kingdom's labor-market guru, concedes that Saudi job creation is improving. He pegs new jobs at 100,000 per year, on average, from 1997 to 2001 -- perhaps triple the 1992-96 average. Saudi Arabia may have a long way to go -- and extremists remain at large. But at least some numbers are moving in the right direction.
By Stanley Reed in Riyadh
Before it's here, it's on the Bloomberg Terminal.
LEARN MORE