Asia: The Dividend From Buying Greenbacks
Asian governments have led a large-scale effort to prevent their currencies from strengthening against the U.S. dollar. Doing so has helped boost economic growth for the region. It may also be holding down U.S. interest rates and inflation.
In the second half of 2003, Asian nations from South Korea to India roared back from a global economic slowdown and the SARS epidemic. Economic growth has come largely from exports: Goods shipped abroad by China jumped 34.6% in 2003. And South Korea said February exports surged 46% from the year before.
To keep the prices of exports from rising in dollar terms, Asian governments are buying U.S. Treasury securities and greenbacks. According to Bruce Kasman, head of economic research at J.P. Morgan Chase & Co. (JPM ), the region now holds close to 25% of all U.S. Treasury securities. That has helped push down the exchange rate for a trade-weighted basket of inflation-adjusted Asian currencies to levels not seen since the 1998 financial crisis (chart).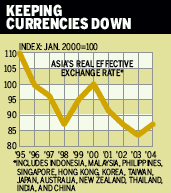 The currency moves have paid off. Asian imports are on the rise, making up over 35% of U.S. imports in 2003. But their prices have barely budged, and trade-sensitive U.S. industries have had to hold their prices down. That has kept U.S. inflation lower than it otherwise would be, given the 11% fall in the total trade-weighted value of the dollar over the past two years.
Plus, Asian governments are mainly buying Treasury securities that mature in under five years. That has pushed short-term interest rates close to 30 basis points below what they would be, says Kasman, even with few signs that the Federal Reserve will raise interest rates soon.
The buying spree can't last forever, though. Once the Fed moves rates higher or Asia sees sustainable domestic demand, purchases of U.S. debt and currency are likely to slow. Fed Chairman Alan Greenspan doesn't see much fallout when that happens. But a quick shift by Asian countries could lead to an unexpected jump in short-term U.S. interest rates, hurting some investors. That shock could force the Fed to move faster than it might now plan to.
By James Mehring in New York
Before it's here, it's on the Bloomberg Terminal.
LEARN MORE