If capital spending on new equipment and buildings is the seed corn of future economic growth, then this recovery is on its way to a rich harvest. The upturn in business investment is not only accelerating, it's broadening, as companies start to do more than just replace worn-out computers and peripherals. Now, businesses are ramping up their spending for traditional non-high-tech machinery, as they see more chances to expand their operations to meet rising demand. In the long run, capital budgets are the building blocks for continued gains in productivity and real incomes in the U.S. economy. Near-term, capital spending, especially for new equipment, is set to contribute mightily to overall growth and should add to hiring later this year.
The sector's outlook is a story of what's hot, what's warming up, and what's still frigid. Outlays for tech equipment will remain the hot sector, but spending on traditional machinery began to heat up in the second half of last year. Construction is still frozen, but at least it won't be subtracting from growth, as it has in recent years.
The pickup in capital spending became clear at the end of 2003. For all of last year, business outlays accounted for less than 10% of the growth in real gross domestic product. But by the fourth quarter, as the recovery strengthened, capital spending, which is about 11% of the economy, supplied 23% of the growth in GDP.
That momentum will continue into 2004 because, barring any surprises, almost all supports under new equipment outlays are unusually strong. First, the combination of less uncertainty and robust demand is building up businesses' faith in the future, even in the long-ailing manufacturing sector. Second, companies have eliminated the excess capacity built up in the late-'90s boom to the extent that signs of pent-up demand for new equipment are emerging.
Third, the financial backdrop, including strong profits, a rising stock market, and low interest rates, is boosting the potential rates of return on new projects. Lastly, new tax rules allowing faster depreciation, currently due to expire at yearend, are an added incentive to get new projects on the books in 2004. Add it all up, and capital spending on equipment will not only contribute significantly more to growth this year than last year, it might even best current expectations.
FOR NOW, THE FOCAL POINT is in equipment. In December and January, new orders for capital goods, excluding the volatile ups and downs in commercial aircraft, scored strong back-to-back gains of 3.8% and 3.6%, respectively. The January level of capital-goods shipments, excluding aircraft, soared at an annual rate of 22% above its fourth-quarter average (chart). Those shipments plug directly into the Commerce Dept.'s GDP data, suggesting equipment investment is on track to grow sharply faster this quarter than it did last quarter.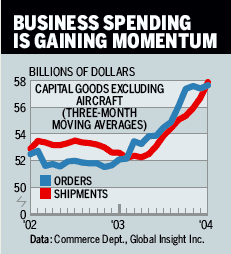 Clearly, high-tech outlays, which now account for 55% of all equipment spending, will continue their scorching pace of the past year. After adjusting for falling tech prices, real outlays are up 20% from a year ago, a growth rate similar to the clip logged during the boom years of the late '90s. But even measured in out-of-pocket dollars, tech-equipment spending has made a full recovery from the 15% plunge it took in the last recession.
The spending on tech equipment should accelerate this year for several reasons. Consider that the tech replacement cycle is generally considered to be about three years. But the massive expenditures spent in anticipation of Y2K were made about four years ago. Even if you assume the recession probably extended the replacement period for most companies, the time has come for many businesses to start updating their tech equipment. In addition, the recovery in overall demand in the economy is heightening the rush for new computers, monitors, printers, and related hardware.
ANOTHER SIGN THAT COMPANIES are starting to satisfy some pent-up demand: Overall business investment is now growing faster than depreciation. For almost three years, new outlays were growing more slowly than older equipment was wearing out, as businesses eliminated their excess capacity. Now the ratio of outlays to depreciation is rising again, suggesting that, in the aggregate, the capacity glut is history. The big exception: The telecom industry, where equipment makers still face an industry operating rate of only 51%, will take longer to work through its problems.
Perhaps the best news for 2004 capital spending is that businesses are now starting to buy more than just new computers. A key reason is that business confidence about the future has shifted markedly during the past year, based on the Business Roundtable's March CEO Economic Outlook Survey. For the coming six months, the corporate chieftains project strong sales and greater capital investment as well as modest job growth.
In the second half of last year, outlays for equipment other than high-tech gear, including various kinds of industrial, transportation, and other nontech equipment, rose at an annual rate of nearly 10%, the strongest two-quarter advance since 1997. Nontech outlays, which began falling before tech spending did and started to rise after tech had turned up, had been declining for three years. Spending on industrial machinery and transportation equipment posted especially strong advances in the fourth quarter, at annual rates of 19% and 24%, respectively, the best showings since the late '90s.
BUT WHILE EQUIPMENT OUTLAYS are performing well, business spending on structures remains in the doldrums. Real investment in buildings and other structures has fallen for 11 quarters in a row. And the declines are widespread, from commercial space to manufacturing facilities to power plants and other construction.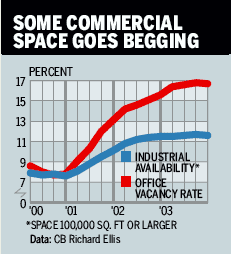 Why the stagnation? There is already too much available space on the market. According to the U.S. National Industrial Availability Index, Fourth Quarter 2003, published by real estate firm CB Richard Ellis, the percent of available industrial space measuring 100,000 square feet or more hit a record 11.7% in the third quarter of 2003 and only dipped to 11.6% in the fourth quarter. The average vacancy rate for office space in metropolitan areas was at the highest since 1994 (chart).
As the recovery continues on solid ground, vacancy rates will fall significantly. But a turnaround in commercial construction probably won't happen until 2005, when businesses feel more comfortable about not just updating their equipment but expanding their production facilities as well. The best that can be said for 2004 is that flat business construction will not subtract from real GDP growth, as it did from 2001 to 2003.
Even so, capital spending is set to become a significant source of growth. Mix in some inventory rebuilding and a possible surge in consumer spending, the result of a tax cut-related boost in Internal Revenue Service refunds, and you get a potent fuel that should rev up the economy in the first half.
By James C. Cooper & Kathleen Madigan
Before it's here, it's on the Bloomberg Terminal.
LEARN MORE