Something's Cooking At Lifetime Hoan
By Gene G. Marcial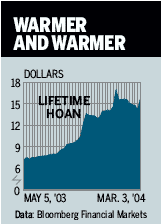 Lifetime Hoan (LCUT ), a designer and marketer of Cuisinart, Hoffritz, KitchenAid, and other household products, is far from a household name on Wall Street, where it has no coverage. But buying by some pros, such as value investor Royce & Associates, with assets of $15 billion, which has acquired a 5% stake, and Goldman Capital Management, with nearly 5%, has sharpened Lifetime's stock -- from 6.70 on May 1 to 15.64 on Mar. 3.
Lifetime has been "racking up very impressive earnings over the past two years," says Neal Goldman, president of Goldman Capital. He says very few consumer-products companies can hike earnings 20% a year. Results in 2003 were particularly eye-catching, he says, with operating earnings leaping to 78 cents a share on sales of $160.4 million, up from 34 cents in 2002 on $131.2 million. He expects results will continue to flourish as the economy revs up.
Goldman, who sees Lifetime as "an absolute growth story," expects the stock to hit 30 in 12 to 18 months, based on his profit forecast of $1.20 a share in 2004 (up from Lifetime's own estimate of 95 cents to $1.10) and $1.60 to $1.70 in 2005. Lifetime CEO Jeffrey Siegel sees more growth from a host of new pro-ducts, including an electric ice bucket, in 2004. Lifetime has 800 customers, and No. 1 is Wal-Mart Stores.
Note: Unless otherwise noted, neither the sources cited in Inside Wall Street nor their firms hold positions in the stocks under discussion. Similarly, they have no investment banking or other financial relationships with them.
See Gene on Fridays at 1:20 p.m. EST on CNNfn's The Money Gang.
Before it's here, it's on the Bloomberg Terminal.
LEARN MORE