By Gene G. Marcial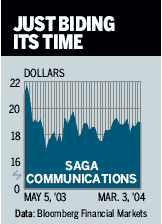 Saga Communications (SGA ) is a minnow in radio-TV broadcasting but a big fish in the small cities the giants overlook. That's just fine with David Sowerby of investment firm Loomis Sayles, which has acquired 5% of Saga -- as a play on what he sees as the start of the advertising rebound. Ad spending dried up in 2001-03, hurt by the Iraq War and the economic downturn. Saga's stock has been flat since June, trading at 17 to 20. But compared with its peers, Saga is cheap, says Sowerby, trading at a price-earnings ratio of 25, vs. p-e's of 30 to 32 for its rivals. Moreover, Saga has a cleaner balance sheet, with little debt, and a higher return on equity and cash flow than most rivals.
With 34 FM and 21 AM radio stations, Saga operates in such fast-growth markets as Columbus, Ohio; Portland, Me.; Champaign, Ill.; and Clarksville, Tenn. Its seven TV stations operate in spots such as Victoria, Tex.; Greenville, Miss.; and Joplin, Mo. Now trading at 18.94, Saga is worth 28, Sowerby figures, based on his 2004 earnings estimate of 70 cents to 72 cents a share, and 80 cents to 82 cents for 2005, vs. 2003's 62 cents. Daniel Moore of CJS Securities says advertisers "are anticipating increased spending" in 2004 and that should boost the stock. He rates it "outperform."
Note: Unless otherwise noted, neither the sources cited in Inside Wall Street nor their firms hold positions in the stocks under discussion. Similarly, they have no investment banking or other financial relationships with them.
See Gene on Fridays at 1:20 p.m. EST on CNNfn's The Money Gang.
Before it's here, it's on the Bloomberg Terminal.
LEARN MORE