His Excellency
Zeng Peiyan
Vice Premier of the People's Republic of China
Beijing
Dear Vice Premier Zeng:
We are writing regarding a trade policy issue that concerns us greatly. China has announced that, beginning on June 1, 2004, it will no longer allow the sale of wireless networking products containing any encryption standard other than the Wireless LAN Authentication and Privacy Infrastructure (WAPI) standard approved by the Chinese government.
If this policy goes into effect, China would be the only country in the world mandating a specific encryption standard for general consumer use. Since this standard is unique to China, implementation will impose a significant new burden on both foreign and Chinese domestic suppliers. Furthermore, implementation of this standard will make Chinese products incompatible with internationally-accepted standards, isolating China from the larger world market for these types of devices. We are particularly concerned that the new rules would require foreign suppliers to enter into joint ventures with Chinese companies and transfer technology to them. Such compelled investment and technology transfer would appear to be inconsistent with China's WTO commitments.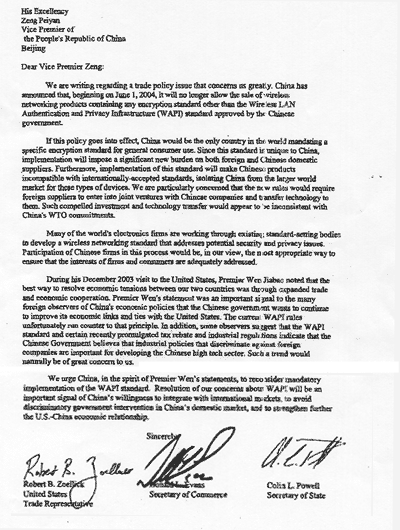 Many of the world's electronics firms are working through existing standard-setting bodies to develop a wireless networking standard that addresses potential security and privacy issues. Participation of Chinese firms in this process would be, in our view, the appropriate way to ensure that the interests of firms and consumers are adequately addressed.
During his December 2003 visit to the United States, Premier Wen Jiabao noted that the best way to resolve economic tensions between our two countries was through expanded trade and economic cooperation. Premier Wen's statement was an important signal to the many foreign observers of China's economics policies that the Chinese government wants to continue to improve its economic links and ties with the United States. The current WAPI rules unfortunately run counter to that principle. In addition, some observers suggest that the WAPI standard and certain recently promulgated tax rebate and industrial regulations indicate that the Chinese government believes that industrial policies that discriminate against foreign companies are important for developing the Chinese high tech sector. Such a trend would naturally be of great concern to us.
We urge China, in the spirit of Premier Wen's statements, to reconsider mandatory implementation of the WAPI standard. Resolution of our concerns about WAPI will be an important signal of China's willingness to integrate with international markets, to avoid discriminatory government intervention in China's domestic market, and to strengthen further the U.S.-China economic relationship.
Sincerely,
Robert B. Zoellick
United States Trade Representative
Donald I. Evans
Secretary of Commerce
Colin L. Powell
Secretary of State
Before it's here, it's on the Bloomberg Terminal.
LEARN MORE