Japan: What May Stall A Consumer Rebound
Japan's export-led recovery is beginning to touch consumers. Household spending is on the rise, and the labor market is gradually improving. But a self-sustaining upturn in domestic demand is still a long way off.
In January, workers' household spending rose 3.4% from a year ago, a third straight monthly gain. In addition, yearly retail sales were up 1.3% in January. Even the housing market is showing some life. Starts have risen in four of the past five months, aided by government tax breaks for new home buyers.
An improving job market is probably helping as well. Employment grew in January, despite the month's jobless rate inching up to 5%, from 4.9% in December. But it was an influx of people entering the workforce, a sign of more optimism regarding jobs, that pushed the rate higher.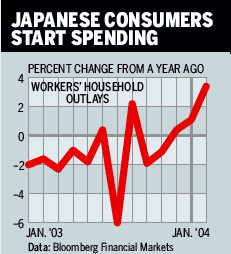 However, Japan's pension system poses a risk to further acceleration in domestic demand. In order to prepare for the increased burden of an aging population, the government wants to raise pension payments by workers and employers. A plan that is now before the Diet would lift premiums in fiscal year 2004 by $1.2 billion, with annual increases of $2.4 billion per year through 2017. Plus, a current freeze by the government on price-adjusting benefit levels would be lifted, causing retirement benefits to fall due to deflation.
The proposed reforms could reverse a trend of drawing down on savings. During Japan's bout of deflation, "households have been using savings assets to pay for consumption," says Osamu Tanaka, a Morgan Stanley (MWD ) economist in Tokyo. The desire to maintain spending levels has kept many Japanese households from accumulating the assets they need for retirement, says Tanaka.
Pension reforms also could weigh on wages, and possibly dampen the recovery in consumer spending. Middle-aged households -- the same consumers typically in their wage-earning and spending prime -- would initially get hit the hardest. But if households also respond by saving more, a self-sustained economic upturn will be very difficult to achieve, leaving the country's economic fate tied to foreign trade.
By James Mehring in New York
Before it's here, it's on the Bloomberg Terminal.
LEARN MORE