Bargain Laptops, But Not Too Shabby
These desktop stand-ins boast a long list of features
What sort of laptop can you buy for less than $1,000? In the not-so-distant past, a sub-$1,000 notebook was probably a discontinued model with a dinky display and short on power, memory, and disk storage. Today, you can get a current-production, name-brand model for under $750 that may be all the notebook many buyers need.
There are some important caveats with budget laptops. In computing, smaller equals more expensive, and low-cost models tend to be big, heavy boxes, generally topping seven pounds. Manufacturers save money by using desktop components, especially Intel's Pentium 4 and Celeron and Advanced Micro Devices' Athlon processors instead of their cooler, less power-hungry, and pricier mobile equivalents. Not only are these laptops tough to fit in a briefcase, but they offer limited battery life, often less than 2 1/2 hours. (There's another breed of big laptops designed for performance rather than low price. For example, the Sony Vaio GRT has a 16-inch display and can top $3,000.)
The intended buyer of these notebooks, known in the industry as desktop replacements, is a consumer or small-business owner who wants a PC that can be tucked away unobtrusively when not in use, or a student who wants a compact computer for a crowded dorm room. These laptops may not be suited for road warrior duty, but they can move from room to room or between home and office.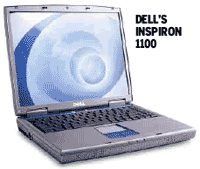 The feature lists of bargain laptops are surprisingly full. The Dell Inspiron 1100, starting at $699 during a recent promotion, is a good example of the breed. (Specials come and go frequently in this fiercely competitive segment, and the prices cited here may have changed by the time you read this). The Inspiron is a 10.9x12.9x1.8-inch box that weighs 7.2 pounds. It sports a 14.1-inch display. The processor is a 2.4 gigahertz Celeron, more than adequate for the relatively undemanding use -- mostly e-mail, Web browsing, and word processing -- that a laptop like this is likely to get. The battery is rated at a bit under 2.4 hours, fine for a notebook unlikely to stray far from a power outlet.
The $699 price includes a drive that plays DVDs and reads and writes CDs. But I'd also pick a few items from Dell's long list of extra-cost add ons. The basic 256 megabytes of memory is barely adequate, so spending an extra $125 to double it will yield a real boost in performance. Adding wireless networking for $49 is a good idea, too, especially if the laptop will be used on a campus. The 20-gigabyte hard drive will do if you don't plan to store a lot of pictures or music, but for $79 you can double the capacity and still come in under $1,000, including shipping.
Nearly every laptop manufacturer offers products in this price class. The Hewlett-Packard Compaq 2500 has specifications similar to the Inspiron and starts at $749 after a $100 mail-in rebate. Be careful shopping on the HP site, though. Accept all the options marked as "included in price" for the model, and you end up with a laptop costing $1,172 after rebate -- a sort of high-tech bait-and-switch. Toshiba's cheapest offering, the Satellite A45 is $954 after a $50 rebate. It comes with a 15-inch display and a 40-gigabyte hard drive.
Starting at $1,200, the Gateway M405 is a bit over the $1,000 limit, but it's one of the first notebooks powered by Intel's new Celeron M chip, a low-cost version of the popular Centrino. It weighs just over six pounds and gets more than three hours of battery life.
None of these notebooks would make your airplane seatmates envious. In fact, most won't fit well on a tray table. But if you want hard-working value and don't need much mobility, one of these low-cost laptops might be just the thing.
For a collection of past columns and online-only reviews of technology products, go to Technology & You at www.businessweek.com/technology/
Before it's here, it's on the Bloomberg Terminal.
LEARN MORE