A Downhill Skier's Uphill Climb
Can Jean-Pierre Boespflug create an Idaho rival to Vail and Whistler?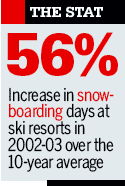 Under an overcast sky in Idaho's West Mountains, French developer Jean-Pierre Boespflug clicks into his skis and stands at the top of what he hopes will be the first four-season "destination" ski resort to open in the U.S. in 23 years. It's a powder day, and beneath him lies a stretch of beautifully smooth snow. "The moguls aren't as fun as they were when my knees were younger," says the broad-shouldered 49-year-old in a thick French accent. "But this looks great." Then he launches himself down the mountain, gleefully converting his momentum into a series of tight S's.
Boespflug has every reason to be upbeat. His newest project, Tamarack Resort, a $1.5 billion ski and golf resort 100 miles north of Boise, is gaining momentum, too. Last spring the Idaho State Legislature voted unanimously to award him a 49-year lease to operate on 2,500 acres of state land near Donnelly, population 100. In January the first batch of residential properties -- 104 lots offered at $231,000 to $803,000 a pop -- sold out in three days, giving Tamarack a $46 million foundation to use in its efforts to find bank loans. As of Mar. 1, more buyers were already lining up for the next multimillion-dollar batch of real estate to go on sale in May.
"NOT OVER THE HUMP"
But Boespflug is a long way from the finish line, and creating Tamarack may prove to be more of a tough cross-country slog than a smooth downhill run. The first lifts aren't scheduled to come online at Tamarack until December. By then, the resort should have a modest lodge, a restaurant, and a few shops. And despite the promising real estate sales so far, those 104 sites are a tiny slice of the 2,043 residential units Tamarack hopes to sell during the next 10 to 15 years to fund construction of 62 runs and 14 lifts. That's nearly $1 billion in sales still to come, if all goes well. "We're not over the hump," Boespflug says.
His caution is well-placed. Since Utah's Deer Valley opened in 1981, every attempt to create a new year-round destination ski area -- a resort, such as Vail, Colo., or Whistler, B.C., that aims to attract wealthier national and international vacationers -- has failed. So why does Boespflug think he can fly where others wiped out? He's betting on long experience in both skiing and finance. "J.P.," as he's known, grew up in Nice, France, skiing in the Alps from the time he was 5 years old. He studied electrical engineering at Stanford University, going on to riches as a tech entrepreneur. In 1997 he founded Cross-Atlantic Ventures, a venture-capital firm specializing in high tech. Boespflug also developed residential areas at European ski resorts. He first invested in Tamarack (then called West Rock) in 1999 and became majority shareholder in 2003.
RUDDY-CHEEKED HEALTH
So far, Boespflug's success at Tamarack stems from deft politics and financial acumen. He soothed environmentalists by spending about $3 million to tap an aquifer 450 feet down and restoring local streams. He hired local construction outfits, as well as ski guides and other workers from Valley County, bringing cash flow to an area faced with a depressed timber and agricultural economy.
Even more important, Boespflug worked to win over potential buyers "with service, not concrete," he says. He invested $28 million of his own money, and instead of spending precious capital on a hotel, he built cross-country skiing runs, bike paths, and hiking trails. "I let people come to me to ask about what we were doing," he says. "I warmed up the market, not raped it."
Boespflug's timing also appears to be good: The ski industry, long anemic, shows signs of returning to ruddy-cheeked health. According to the National Ski Areas Assn., a record 57.6 million skiers and snowboarders hit the slopes last winter, up 5.9% from 2001-02.
Tamarack's next test will come in May, when it will offer 52 more lots, this time on the golf course. Late spring can be a tough time to make a sale in Idaho -- there will be few flowers blooming, no swimming in the lake. But Tamarack officials are confident they'll sell out again. If they do, Boespflug should be able to enjoy his run for at least a few more turns.
By Tim Neville in Donnelly, Idaho
Before it's here, it's on the Bloomberg Terminal.
LEARN MORE