What George Soros Sees In Valentis
By Gene G. Marcial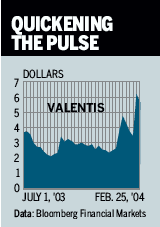 You might call biotech Valentis (VLTS ) a late bloomer. On Dec. 29, it traded at 2.49 but by Feb. 25 had jumped to 5.72. What happened? George Soros, through his Perseus-Soros BioPharmaceutical Fund, bought more shares in a private deal, upping his stake to 20%. Valentis' lead product, Deltavasc, is a novel angiogenesis -- that is, it's designed to grow new blood vessels in patients suffering from arterial disease.
Dennis Purcell, managing director at Perseus-Soros Fund, says Soros wants to help biotechs with good products complete their clinical trials. Initial results from Valentis' Phase 2 trials, which test for safety, look promising, Purcell says. This should enhance prospects for Phase 3, which tests for efficacy in larger samples. While the clinical test was meant to show Deltavasc's safety, there was evidence of efficacy, too, in certain doses, says Valentis CEO Benjamin McGraw III. Valentis has yet to make money. "We are fighting the big guys, such as France's Aventis (AVE ) and Japan's Daiichi Pharmaceutical [in developing blood-vessel products]," says McGraw.
Note: Unless otherwise noted, neither the sources cited in Inside Wall Street nor their firms hold positions in the stocks under discussion. Similarly, they have no investment banking or other financial relationships with them.
See Gene on Fridays at 1:20 p.m. EST on CNNfn's The Money Gang.
Before it's here, it's on the Bloomberg Terminal.
LEARN MORE