U.S.: The Big Boost From Beefing Up Inventories
As restocking picks up, it will bolster growth -- and even spur hiring
During the 1990s, inventory management proved to be one of the most important business applications of new technology. Over time, high-tech gear honed just-in-time inventory systems to a science, a process that has wrought new efficiencies throughout the supply chain. Companies can do business with fewer stockpiles on hand, resulting in huge cost savings.
But, as businesses found out when demand plummeted during the recession, even the hottest inventory technology cannot overcome the business cycle. When demand, especially for tech equipment, collapsed, companies were stuck with bloated warehouses and store shelves. Businesses had to adjust their inventory levels to the realities of the post-bubble economy.
New inventory technologies did allow businesses to react more quickly to the falloff in demand. In just seven short quarters from mid-2000 to the end of 2001, businesses went from boosting their inventories by a large annual rate of $99 billion to cutting them by a record $76 billion. That massive swing from inventory accumulation to drawdown was the largest in modern history and one of the major factors contributing to the last recession.
But like a dieter who slips into anorexia, companies have taken their inventory-cutting to extremes. The combination of cautious business strategies that emerged during the sluggish recovery and the sudden pop in demand in the second half of last year has pushed business inventories down to historically low levels in relation to sales, even after adjusting for the long-term trend toward leaner stockpiles.
Businesses must now restock their empty shelves, particularly because demand shows no signs of slacking off. As a result, inventory building, usually a minor player in economic calculations, is set to offer a substantial jolt in the first half. The process of beefing up stockpiles will add handsomely to growth in real gross domestic product, even after taking into account that some of the rebuilding will be satisfied by imports. Equally important, it will provide an impetus for job growth, especially in the beleaguered factory sector.
TO BE SURE, businesses began the restocking process this past autumn, but their pace was tentative. In the second half, inventories held by manufacturers, wholesalers, and retailers rose only 0.9%, while their sales soared five times faster, at 4.7%. That's why one of the biggest surprises in the initial fourth-quarter report on GDP was the smaller-than-expected contribution to growth from inventories.
By December, the ratio of inventories to sales, a measure of the adequacy of stocks relative to demand, fell to a record low of 1.34. Excluding retail autos -- and the effects of on-again, off-again sales incentives -- the ratio of business stocks to sales was also historically low.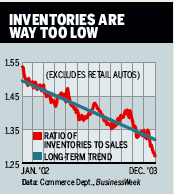 True, the advent of technology and the adoption of just-in-time inventory management mean businesses have made a structural downshift in the amount of inventories they carry. For instance, back in the early 1990s, the comfort zone of nonauto inventories, which covers 87% of business inventories, was a ratio of just under 1.5 in relation to sales. A reading far above that indicated inventories were too high, and vice versa.
By 2003, the comfort ratio was just over 1.3. But the December ratio of stocks to sales for nonauto goods stood at only 1.27 (chart), indicating inventories were more than 7% below their desired level. Sluggish restocking is why manufacturers haven't yet perked up as much as the overall economy. In the six months ended in January, manufacturing output rose by a weak 2.6%.
BUSINESSES WILL HAVE TO REBUILD their inventories quickly or risk losing customers, and that catch-up will provide a big boost to the economy. For example, suppose that in the first half sales slow a shade from their 0.8% average monthly increase in the second half of 2003 to a still solid 0.6%. That means nonauto inventories would have to jump by 1.1% per month, compared with 0.3% per month during the fourth quarter, just to lift the inventory-sales ratio back up to its long-term trend.
That works out to an inventory gain of some $75 billion in the first half. Even assuming a third of that increase goes to imports, it would still be enough to add about one percentage point to real GDP growth in both the first and second quarters. Depending on how quickly retailers and wholesalers want to rebuild their stockpiles, factory output may have to rise more quickly than the current pace of manufacturing productivity, leading to an increase in factory overtime and perhaps jobs.
The long-awaited hiring pickup should lift sagging consumer spirits. The Conference Board's index of consumer confidence dropped a large nine points in February, to 87.3. The Board said job worries were at "the core of their disenchantment." So far, though, the caution has not translated to weaker demand. Weekly store surveys show consumers were still spending in early February. Those gains came even before most taxpayers had filed for their tax refunds, which will be bigger than normal this year. Those federal checks will keep consumers shopping, a key reason retailers have to make sure their shelves are well-stocked.
IN ADDITION, BUSINESSES will have to build up inventories now rather than later because prices, especially for input materials such as commodities and fuels, are beginning to increase, sometimes sharply. Indeed, one reason businesses were reluctant to build up their stockpiles over the past few years was that deflation meant raw commodities would most likely be cheaper two or three months out.
No wonder inventories are skimpy across all major sectors, from manufacturers to wholesalers to retailers. Even in tech equipment, where inventory-sales ratios mushroomed after the bust in 2000, the ratio of stocks to sales is down to levels not seen since the late 1990s. As a result, new production of high-tech gear is pushing up overall manufacturing output, as the capital-spending rebound takes hold. During the second half of last year, tech production rose 13%, while nontech output increased only 2%. Production outside of tech is sure to accelerate as the need for additional inventories bolsters new factory orders.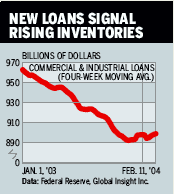 One sure sign that businesses are moving toward inventory rebuilding is the renewed demand for commercial and industrial loans (chart). The primary use of these loans is to finance short-term business operations. Since a key part of short-run operations is assuring that inventories are sufficient to meet demand, C&I loans are closely correlated with the ups and downs in inventories. In December, such bank lending finally began to turn up after falling steadily for three years.
Inventory restocking always adds a kick to an economic recovery, but so far that boost has been missing. Now, all signs are finally pointing to a change, which is another reason to expect solid economic growth this year.
By James C. Cooper & Kathleen Madigan
Before it's here, it's on the Bloomberg Terminal.
LEARN MORE