Sweeter Days At Cadbury Schweppes
A new CEO is shaking up the chocolatier with modern methods and new brands
A few years ago, if you had visited Cadbury Schweppes PLC's main plant on the outskirts of Birmingham, you might have thought you were in a time warp. White-smocked workers were still boxing the famed Cadbury Easter eggs by hand. Even now, rows of middle-aged women pop on the tops on bright-blue tins of Cadbury Roses, the popular twist-wrap candy.
All that is changing. Thanks to a $56 million investment in new equipment, the Easter eggs are boxed by machine. And the grey-haired women who snap on the tops may be out the door soon, now that Cadbury plans to reduce its workforce in Britain by 500 over the next two years.
The changes going on at the storied home of Britain's favorite chocolatier reflect a worldwide shakeup of the stodgy company by a fat-slashing, Harvard University-educated American: Todd Stitzer, 51, who has vowed to bring Cadbury into the 21st century. Stitzer plans to close more than 20 factories worldwide in the next three years, a 20% reduction, and cut the global workforce by about 5,500 -- 10% of Cadbury's employees. Stitzer hopes to bring down worldwide costs by $750 million a year. This year alone, Cadbury expects to save $141 million. "We've seen an encouraging start to 2004," says Stitzer, a company veteran who became chief executive last May.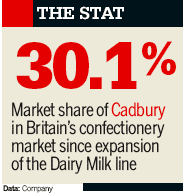 Stitzer's efforts have already drawn attention. On Feb. 17, Berkshire Hathaway Inc., the investment vehicle of Warren E. Buffett, reported that it owned 10 million shares of Cadbury -- a $73.3 million stake. Stitzer says the announcement, released in a regulatory filing the day before Cadbury reported its 2003 results, came as a surprise.
While analysts do not view Cadbury as a takeover target, Buffett's investment was a vote of confidence for a company that had had a rough 2003. True, Cadbury has an impressive lineup of global brands -- including Snapple, Dr Pepper, and 7Up. But the company, founded by Quakers in the 1800s, faced several challenges. In the Americas, where it does half its business, sales of carbonated drinks slumped 9% on unseasonably cold weather in the U.S. and a shift in demand to bottled water. Snapple failed to perform as Coca-Cola Co. (KO ) and PepsiCo Inc. (PEP ) offered new iced-tea products. And the sagging dollar took a 3% bite out of operating income. The result: a 32% decline in pretax profits, to $1.1 billion, despite a 22% gain in sales, to $12.1 billion.
STIRRING THE VATS. Stitzer describes 2003 as a "year of transition." Along with unfavorable market conditions, the company underwent a major restructuring. Nine business units were consolidated into five. On the management side, Stitzer took over as CEO from John M. Sunderland, who became chairman. And the company began to integrate its $4.2 billion purchase of the Adams confectionery business in Parsippany, N.J. Adams, formerly owned by Pfizer Inc. (PFE ), added several brands to Cadbury's stash, including Trident, the Bubbas bubble- gum range, Halls throat lozenges, and Dentyne. Stitzer has pumped this array of new products through his distribution system. Sales of Halls in Britain have risen 4% since last March, and Cadbury has introduced Halls in Denmark, Poland, and Russia.
The chocolate line is getting refashioned, too. Last year, Cadbury broadened its Dairy Milk line to include bars made with ingredients such as caramel, shortbread, and bits of mint. Then Cadbury redid the packaging so that the traditional Cadbury purple would stand out -- and draw consumers in. Sales of Dairy Milk products soared 13% in 2003, boosting Cadbury's share of Britain's confectionery market to 30.1%. No.2-ranked Mars Inc.'s share fell more than half a point, to 20.8%.
Stitzer still has plenty to do. The U.S. beverage market remains difficult. The dollar could keep falling, and analysts at J.P. Morgan forecast only marginal gains in sales and profits this year. But investors seem optimistic. Cadbury's shares have risen 29%, to a recent $8.50, since Stitzer took over. "Todd Stitzer has pushed the right buttons so far," says Andrew Saunders, a food analyst at Numis Securities Ltd. in London. "But he has to deliver this year." Investors seem to think he will.
By Laura Cohn in London
Before it's here, it's on the Bloomberg Terminal.
LEARN MORE