Britain: Curbing The Enthusiasm
The Bank of England's attempt to rein in Britain's consumer sector has hit a snag: the rising pound.
Back on Nov. 6, the BOE became the first major central bank to begin raising interest rates. The second move came on Feb. 5, when policymakers unanimously voted to lift the lending rate to 4%.
The tightening is aimed at slowing the rush to borrow and spend by consumers. But more hikes may be needed to curb the Brits' enthusiasm. In January, retail sales rose by a more-than-expected 0.6%, the sixth advance in a row. Also in January, the index of consumer confidence hit its highest reading in more than a year. BOE Deputy Governor Rachel Lomax said the bank was "surprised" by the resilience of household spending. But strong consumer spending is one reason behind expectations that Britain's economy will grow 3.5% this year, up from 2.3% in 2003.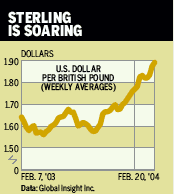 Consumers are taking advantage of surging home prices by tapping home-equity loans. Although price gains have slowed recently, home values in January still rose by a large 2.2% from December, while home-equity loans jumped by 5.9 billion pounds ($10.8 billion), the largest gain in more than two years. What remains to be seen is whether the January jump was a last borrowing hurrah now that rates are rising.
The BOE has great leeway to tighten since inflation is not much of a problem. But the bank's actions are helping to lift the currency. In the last year, the pound has risen 18% against the dollar; in just the past two months, it's up 5% against the euro. British exports already lagged in '03 because of the weak global economy, contributing to the manufacturing downturn. Now that world growth is firming up, the stronger sterling may hinder exporters.
For now the BOE is playing down the pound's rise, and analysts expect the BOE to raise rates by a quarter point in May, followed by another hike before yearend. But the BOE's policymaking in 2004 carries with it some risks. The bank seems ready to sacrifice the export sector in order to stop consumers from borrowing so much. But that suggests the weak recovery in manufacturing won't gain any traction this year.
By James C. Cooper & Kathleen Madigan
Before it's here, it's on the Bloomberg Terminal.
LEARN MORE