By Gene G. Marcial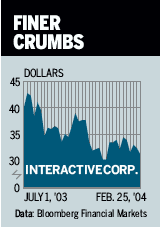 Some pros who owned shares of both Walt Disney (DIS ) and Comcast (CMCSK ) before the latter made its bid for Disney are now buying into InterActiveCorp (IACI ). Here's why: They figure it's undervalued on assets and fundamentals and also that Disney may end up buying it.
InterActiveCorp is Barry Diller's online travel, hotel, financial, and TV home-shopping outfit, and CEO Diller could be a big reason Disney boss Michael Eisner may be after it. Both men have deep roots in entertainment -- and they're buddies. Part of a deal could be for Diller to succeed Eisner in a year or two, thus cooling the boiling issue of succession at Disney -- and discourage Comcast from reigniting its rejected all-stock bid for Disney. One pro who thinks Disney will move on InterActiveCorp and promise Diller the top job is Alec Cutler of Brandywine Asset Management, which owns shares in InterActive, Disney, and Comcast. InterActive hit 42 in July.
The stock is now at 31 -- since rumors in mid-February that Diller might pursue Disney. Cutler says that "quite the contrary could be in the works." He figures InterActiveCorp is worth about 51 -- based on 30 times its free cash flow of $1.2 billion, or $1.60 a share, which comes out to 48 a share -- plus cash equivalents of $2.2 billion, or 3 a share. Disney would get InterActive's Net assets, such as Expedia and LendingTree, plus a variety of media talents, says Cutler. Brian Egger of Harris Nesbitt Gerard sees InterActive earning 95 cents a share in 2004 and $1.20 in 2005, up from 2003's 23 cents. He rates it outperform, with a 12-month target of 45. Diller declined comment, and Disney didn't return a call for comment.
Note: Unless otherwise noted, neither the sources cited in Inside Wall Street nor their firms hold positions in the stocks under discussion. Similarly, they have no investment banking or other financial relationships with them.
See Gene on Fridays at 1:20 p.m. EST on CNNfn's The Money Gang.
Before it's here, it's on the Bloomberg Terminal.
LEARN MORE