Strange to think that just six years ago a $20 billion monthly trade deficit seemed impossible. But in 2003, the trade gap consistently ran at twice that amount, including a $42.5 billion deficit in December. For all of 2003, the trade gap hit another yearly record, widening to $489 billion. Will 2004 bring a new high-water mark?
Probably, but the good news is that the increase in the gap between imports and exports this year will most likely be the smallest in years. Both exports and imports are set to post much healthier gains than in 2003. Trouble is, as the sharp $4.1 billion rise in the December trade gap illustrates, imports are so much larger than exports that exports have to grow substantially faster just to hold the trade deficit steady.
Nevertheless, many U.S. manufacturers will reap some benefits from more robust growth abroad and the weaker dollar. Export growth could top 10% this year. Recent industrial surveys show a strengthening in export orders, which is adding some momentum to the turnaround in the factory sector. And in an interesting twist, China is the fastest-growing destination for U.S. exports, even though most trade analysts concentrate on the massive inflow of imports from that nation.
The travails of trade, however, affect more than U.S. manufacturing. Financing the growing chasm between what America buys from the rest of the world and what it sells overseas is running up against Washington's need to fund the massive fiscal deficits expected for the next five years, if not beyond. Thus, the U.S. financial markets will have to find a way to attract enough foreign capital to fund both the U.S. trade and federal shortfalls. Without a reversal in either deficit, this increasingly hard challenge will add to the dollar's vulnerability.
THE DOLLAR'S DECLINE so far has been orderly, resulting in a lift for exports. Although foreign shipments ended 2003 with a 0.2% slip in December, they had their best year as a whole since 2000. Total goods and services exports rose 4.6%, after declining in each of the previous two years. In 2004, foreign shipments will continue to get a boost from two positive factors: the cheaper dollar and a broader global recovery.
The dollar has been sinking for two years now, but its fall has been particularly steep against the currencies of two major markets: Canada and the euro zone, which together buy 39% of U.S. exports. Since peaking in early 2002, the dollar is down 19% against the Canadian dollar and a massive 33% against the euro. Because of the dollar's fall against the euro, U.S. companies are gaining an edge over their European rivals when they market their products to emerging economies.
Exporters will also benefit from the rapid recovery in most Asian economies. Of the top 20 markets for U.S. goods, eight are in Asia, including Japan and China (table). In 2004, all of those economies are expected to grow as fast or faster than they did last year.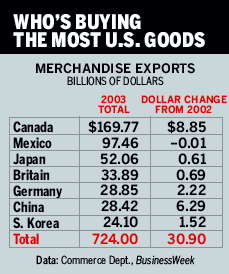 Perhaps the biggest gain will come from larger shipments to China, especially if the government there allows the yuan to appreciate slightly. True, most of the recent media attention has focused on the record U.S. merchandise trade deficit of $124 billion with China. But that shortfall was caused by the flood of goods imported from China. What the press has largely missed is that the Middle Kingdom is a rapidly expanding market for American goods. China's share of U.S. exports is still a mere 4%. But their purchases jumped 28% last year and accounted for 20% of the $30.9 billion increase for all American exports.
Unfortunately, the healthy gains expected for exports probably won't offset the deterioration in the trade deficit coming from the rise in imports. Imports in 2003 stood at $1.5 trillion, about 50% greater than the export total. Even if exports post a 10% advance this year, imports cannot grow faster than 7% if the trade deficit is to remain at the 2003 level.
IMPORTS, HOWEVER, are very likely to grow much faster than 7%. First, U.S. demand is increasing about 4.1%. In the 1990s, when demand was that strong, imports were rising at a rate of 10% to 14% a year. Moreover, the import slowdown during the last recession was triggered by the drop in capital spending in the U.S. Now, businesses are buying machinery and computer gear again, and capital-goods imports are reviving. Indeed, a large chunk of the 3% rise in total imports in December came in capital goods.
Second, the lower dollar, while a boon to exports, isn't helping much on the import side. That's because some of the fastest-growing sources of imports to the U.S. are nations that peg their currencies to the dollar. That has been a key criticism against China, whose shipments to the U.S. jumped by $27 billion last year (table). Because of the locked exchange rates, the dollar is down only 13% over the past two years on a broader trade-weighted basis, despite its plunge against the euro and Canadian dollar.
Plus, some foreign companies try to maintain their U.S. market share by absorbing adverse currency movements to hold the line on prices. No wonder import prices, excluding fuel costs, are barely rising. In the year ended in January, they were up only 1.4%, and that mainly reflected a price acceleration in industrial supplies and materials. Prices of capital goods are still falling, while prices of imported nonauto consumer goods are rising a mere 0.4%.
Regionally, the prices of goods from industrialized countries were up 3.6% in January from the previous year. But imports from the rest of the world were 1.4% cheaper. Most notably, the prices of goods from Asian exporters such as South Korea, Hong Kong, Taiwan, and Singapore were down 1.3%.
THE INTENSE COMPETITION from abroad is one reason the current factory turnaround remains so muted. Despite the economy's 6% growth rate in the second half of last year, manufacturing production increased only by a modest 0.3% in January, after a 0.1% rise in December, which was revised down from an originally reported 0.3%. Factory output will have to grow much faster than that to boost the factory operating rate, which stood at a low 74.6% in January .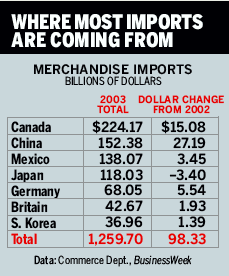 U.S. manufacturers will get some lift when companies begin to rebuild inventories in earnest. Already, businesses in manufacturing, wholesale, and retailing lifted stockpiles by 0.9% in the second half of last year. Still, their efforts fell behind the 4.7% jump in sales, resulting in a record low ratio of inventories to sales. But foreigners will get a chunk of the inventory-rebuilding business, which will exacerbate the import inflow.
Does an ever-growing trade deficit matter? Clearly, an expected pickup in both exports and imports is yet another sign of an improving U.S. economy. But the potential problem is how the financing of the trade gap will affect the financial markets, especially when the only market mechanism for redressing the trade imbalance is a weaker dollar. How far and how fast the dollar will have to plunge is one of the biggest unknowns.
By James C. Cooper & Kathleen Madigan
Before it's here, it's on the Bloomberg Terminal.
LEARN MORE