By Gene G. Marcial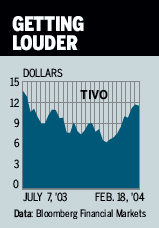 TiVo (TIVO ) has snapped back, to more than 11, after being beaten down to 6.20 in mid-December. It traded at 13.50 in July. TiVo is the pioneer in personal digital video recording (DVR), which lets customers record TV shows to watch later. The bulls and bears are in a tug-of-war: Skeptics say competition will shoot the stock down, while fans think its technology is out ahead.
One bull, Daniel Ernst of investment outfit Rodman & Renshaw, says TiVo has the "best blend of functionality and ease of use." Ernst, who rates it outperform, says TiVo is used by eight electronic-device makers, including RCA, Sony (SNE ), Toshiba (TOSBF ), and Pioneer. Ernst sees the stock doubling in two years and TiVo remaining a top player "over the long haul." One worry: Its partnership with News Corp. (NWS )-owned DirecTV, which offers TiVo to its satellite subscribers, may end when News Corp. perfects its own rival system. Ernst doubts this, noting that strong December demand for TiVo resulted in a shortage of TiVo units among DirecTV customers. Ernst figures the number of subscribers will rise to 2.5 million in the year ending Jan. 31, 2005, up from 1.4 million in January, 2004.
In a recent press release, DirecTV said it would continue to "aggressively market the DirecTV DVR with TiVo." David Farina of investment firm William Blair, who rates TiVo a strong buy, says that should lay any worries to rest. He adds TiVo could also team up with a cable outfit, such as Comcast (CMCSK ).
Note: Unless otherwise noted, neither the sources cited in Inside Wall Street nor their firms hold positions in the stocks under discussion. Similarly, they have no investment banking or other financial relationships with them.
Corrections and Clarifications Daniel Ernst of Rodman & Renshaw says TiVo Inc. is likely to lose at least part of its contract with DirecTV in 2005. "TiVo raises the volume" (Inside Wall Street, Mar. 1) quoted him as saying he "doubts" that TiVo's partnership with DirecTV will end soon.
See Gene on Fridays at 1:20 p.m. EST on CNNfn's The Money Gang.
Before it's here, it's on the Bloomberg Terminal.
LEARN MORE