By Gene G. Marcial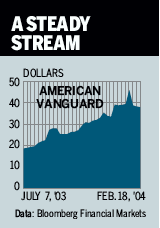 Sometimes a stodgy company with a simple growth plan ends up a strong performer. Take American Vanguard (AVD ), which makes chemicals for crop as well as human and animal protection. This little-known producer of insecticides, fungicides, and soil fumigants has posted steadily rising sales and earnings since 1999. Vanguard buys product lines or plants that big drugmakers and chemical houses put up for sale, usually after merger deals. For example, Vanguard recently acquired animal-protection products from Novartis (NVS ) and a multiproduct manufacturing plant in Alabama from DuPont (DD ).
Vanguard stock has risen from 18 a share in July to 37 on Feb. 18. John Roberts of Buckingham Research Group says Vanguard has had success with every cast-off product it has acquired and has enjoyed a resurgence. He figures Vanguard will earn $1.65 a share in 2004 on sales of $127 million, up from $1.55 on $121 million in 2003 and $1.16 on $100 million in 2002. StockDiagnostic.com, which monitors operational cash flow per share (OPS), has upgraded Vanguard's OPS rating. In the 12 months ended Sept. 30, OPS was $2.38 a share, up from 67 cents the previous year.
Note: Unless otherwise noted, neither the sources cited in Inside Wall Street nor their firms hold positions in the stocks under discussion. Similarly, they have no investment banking or other financial relationships with them.
See Gene on Fridays at 1:20 p.m. EST on CNNfn's The Money Gang.
Before it's here, it's on the Bloomberg Terminal.
LEARN MORE