Europe: For Euro-Zone Hopefuls, A Longer Wait
Prospects for a significant expansion of the 12-nation euro zone in the next three to four years are fading. Of the 10 countries set to enter the expanded 25-member European Union in May, only some smaller nations have a shot at joining the tighter single-currency group by the earliest possible date in January, 2007. Several larger countries appear to be pushing back their timetables.
The demands of politics and economic growth in some of Central Europe's bigger nations are starting to take a higher priority than the tough commitment on budget reform required for entry into the euro zone. That's especially true for Hungary and Poland. Hungary's financial markets are in a shambles, and economic prospects are dimming. The governing parties in both countries trail the opposition in the polls, and both are hesitant to make the fiscal sacrifices needed to bring their deficits down to the required 3% of gross domestic product. New Finance Ministers in each have suggested that the official 2008 goal for euro-zone entry will be scaled back.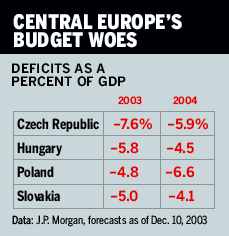 Most recently, Hungary missed its 4.5% budget target for 2003 by more than a percentage point, and analysts believe that even the new, upwardly revised 4.6% objective for 2004 is unreachable. Hungary, like most of Central Europe, is burdened by its generous social welfare policies. Poland, Slovakia, and the Czech Republic all met their 2003 marks, but they did so with help from one-time measures. Slovakia, Central Europe's most pro-reform government, is still officially setting its sights on adopting the euro between 2008-10, while the Czech Republic continues to look at 2009-10.
That leaves the three Baltic republics, along with Slovenia, Cyprus, and Malta, as the only countries with hopes of joining the euro zone in the next three years. Lithuania, Estonia, and Latvia have a leg up because they already meet most of the Maastricht Treaty requirements, and they already operate currency boards or have fixed exchange rates, which will ease the transition. Plus, unlike many of their bigger, soon-to-be EU brothers, they all have tame inflation, low interest rates, and small public-sector debt.
By James C. Cooper & Kathleen Madigan
Before it's here, it's on the Bloomberg Terminal.
LEARN MORE