By Gene G. Marcial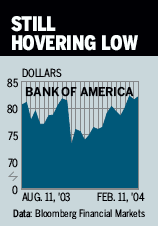 With banking mergers and acquisitions heating up, some big U.S. and European banks are eyeing Bank of America (BAC ) as a possible partner. So say pros who have been buying shares. On fundamentals alone, BofA stock, now at 81.99, is worth 96, says Jeffrey Kleintop of PNC Advisors, which owns shares. BofA's strategy is to be an acquisitor, "but it could be a target," he says, because of its hefty slice of U.S. consumer and commercial banking -- serving 21 million households and 2 million businesses.
BofA is now acquiring FleetBoston Financial (FBF )."I'm not sure with whom, but there's an opportunity [for BofA] for an overseas partnership," says Kleintop. Second only to Citigroup (C ) in assets, BofA will drop to third place in June after J.P. Morgan Chase (JPM ) closes its purchase of Bank One (ONE ). The biggies -- Citigroup, Deutsche Bank (DB ), and BNP Paribas -- have said they are focusing on acquisitions. Kleintop says the revival of M&As, the bank's highest-margin business, bodes well for BofA as it ranked No. 3 in U.S. deals in the past quarter. On the rise, too, are investment banking, brokerage, and asset management.
At its price-earnings ratio of 11 and its dividend yield of 4%, BofA is cheap, says Kleintop, who sees it earning $7.15 a share in 2004 and $7.80 in 2005. Also high on BofA is investment pro Archie MacAllaster, chairman of MacAllaster Pitfield MacKay Capital, which owns shares. BofA is a must-buy, he says. He sees dividends rising this year from $3.20 a share to $3.50. BofA declined comment.
Note: Unless otherwise noted, neither the sources cited in Inside Wall Street nor their firms hold positions in the stocks under discussion. Similarly, they have no investment banking or other financial relationships with them.
See Gene on Fridays at 1:20 p.m. EST on CNNfn's The Money Gang.
Before it's here, it's on the Bloomberg Terminal.
LEARN MORE