U.S.: The Fed Isn't About To Ease Up On The Throttle
Until the job market rebounds sharply, inflation won't become a worry
When Federal Reserve Chairman Alan Greenspan went up to Capitol Hill on Feb. 11-12 to deliver his twice-yearly report on monetary policy, he made it clear the Fed is in no rush to remove any of the unusually generous stimulus provided by a 1% policy rate, a 46-year low. "With inflation very low and substantial slack in the economy," Greenspan said, "the Federal Reserve can be patient in removing its current policy accommodation."
But how will we know when the Fed's patience is wearing thin? After all, the economy grew 6.1% in the second half of 2003, and the Fed's latest forecast for 2004 projects growth in the 4.5%-to-5% range, faster than the 4.2% consensus of private forecasters (table). Moreover, the chairman admitted that the Fed's current policy rate is too low to be consistent with its long-term goal of price stability.
Although Greenspan did not single out the labor markets, the key to any decision on interest rates this year will come down to jobs, jobs, jobs. Ignore all the hand-wringing over strong growth in real gross domestic product, the resurgence in demand, the declining dollar, and soaring commodity prices. In the end, the economy's inflation potential lies almost solely in the job markets. Labor conditions must tighten enough to push up wage growth sufficiently to feed into bigger price increases. Without that engine in gear, inflation can't get moving.
To be sure, the job markets are slowly stirring back to life, as the Labor Dept.'s January data show. And the rate of improvement will pick up. Demand is now growing at a pace where businesses need more of everything: more inventories, more equipment, and more workers. Labor also reported that productivity gains, while still good, are slowing from their unsustainable rate of recent quarters, allowing more room for job growth.
HOWEVER, IN THIS NEW ERA of global economics, the labor markets will need more time than ever before to gain traction, let alone tighten up to the point where wages and prices begin to spiral upward. Global competition has forced a new cost-cutting mind-set on Corporate America. Combined with technological advances and the threat of outsourcing, this triple-threat means many U.S. workers will still feel job jitters even when the jobless rate falls below 5%. Unless workers feel secure enough to seek higher pay, inflation will remain absent.
In addition, the growing investor class will keep the squeeze on labor, as investors demand ever-increasing earnings from U.S. corporations, which are also under siege here at home from the soaring cost of health-care and pension benefits.
The January jobs report also offered strong evidence that the Fed will be in no hurry to move rates up. Payroll employment increased by 112,000 workers last month, the largest gain in three years. However, that's still a very slow pace for a recovery, especially with economic growth as strong as it is right now. Job growth in the fourth quarter averaged only 62,000 per month.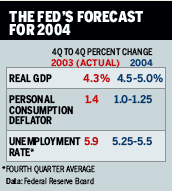 At the start of the third year of recovery after the 1990-91 recession, job growth averaged 166,000 per month, even though the economy was growing more slowly than it is now. Greenspan noted that gross separations from employment have been running close to expected business-cycle norms, but that new hires and layoff recalls are far below what past experience would indicate.
The Labor report also showed annual wage growth for production workers, about 81% of all payrolls, has slowed by a percentage point during the past year, to 2% in January. Over the course of 2003, overall wages and salaries for both blue- and white-collar workers grew a faster 3.3%. Yet the impact on business costs from that modest gain in pay was more than offset by a hefty 5.3% advance in productivity. As a result, unit labor costs fell by 2% last year, while prices rose by a modest 0.9%. The result: Cost control allowed businesses to widen their profit margins, even as inflation was falling.
IN THE COMING YEAR, productivity will slow as it always does when a recovery picks up steam -- since businesses can't extract 5% productivity gains from workers forever. Indeed, that's part of Greenspan's outlook. "It is difficult to believe that we can continue to advance efficiencies at the current pace," he said in his testimony in reply to a question about jobs. He added that job growth will eventually pick up, as companies will have to rely more on new labor to meet customer demand. It's already happening. After three years of declines, hours worked began rising in the fourth quarter, a trend that is continuing in the first quarter of 2004 (chart).
Job growth and hours worked should continue to rise this year, especially since the outlook for demand is solid. For example, if the economy grows 4.5%, as generally expected, and if productivity slows to a still-healthy clip of 2.5%, that would leave room for about 2% job growth, or about 200,000 jobs per month.
But keep in mind that it takes about 150,000 per month just to keep up with growth in the labor force. That means the unemployment rate will continue to fall from its January level of 5.6%, but not very quickly. A dip to a 5% unemployment rate will hardly cause the Fed to worry about future inflation. The Fed's own forecast expects the jobless rate to slip to the 5.25%-to-5.5% range by the end of the year.
MOREOVER, IN THIS RECOVERY, the combination of good productivity growth and the trend toward job outsourcing means that the unemployment rate has considerable room to fall before it generates excessive upward pressure on wages and prices. Indeed, Greenspan said that a rate close to 4% might be consistent with stable inflation. Note that when the Fed began tightening policy in June, 1999, the jobless rate had already fallen to 4.2%.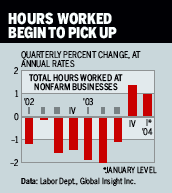 Still, there is one key difference between Fed policy now and in 1999. Back then, the real policy rate, which is the target rate minus inflation and thus a better gauge of the stimulus the Fed is offering the economy, was about 3%. That rate was slightly above its long-run average of about 2.5%, meaning that policy was exerting a nearly neutral impact on the economy. Typically, a real funds rate well above its long-run level suggests a restrictive policy, while a rate well below trend im- plies a stimulative policy.
By that metric, the current 1% policy rate, which in real terms has been negative for more than a year, is highly accommodative at a time when the economy is clearly mending fast. Therefore, given the lags with which policy works, policymakers will want to begin moving the rate up toward a more neutral level before the economy has used up all of its slack in order to avoid the possibility that rates would have to be lifted sharply later on.
But even when the Fed begins to raise rates, the best analogy is not with slamming on the brakes; it's with easing off the accelerator -- to slow the economy's velocity from, say, 75 mph to a safer speed. And in 2004, the atypically slow rate of improvement in the labor markets will allow the Fed to keep the pedal to the metal at least until yearend.
By James C. Cooper & Kathleen Madigan
Before it's here, it's on the Bloomberg Terminal.
LEARN MORE