How Chinadotcom Works The Phones
By Gene G. Marcial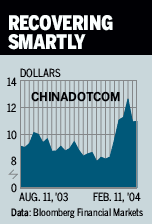 Like its Net brethren, Chinadotcom (CHINA ) went crazy during the bubble: After an initial public offering in 1999 at 20 a share, it soared to 85 in 2000, diving to 1.80 in 2001. The stock has come back -- to 10.95 by Feb. 11: It's making money, at last. Based in Vancouver, B.C., Chinadotcom makes software for back-office work as well as systems for Chinese-made mobile phones to get and store information such as news and stock quotes.
Jason Brueschke of Pacific Growth Equities, who rates it outperform, estimates 2003 earnings at $13.4 million, or 13 cents a share, on sales of $87 million. And in 2004, he sees net profits of $37.7 million, or 36 cents, on $236 million. Brueschke sees huge potential in both software and wireless. He estimates that the 300 million wireless phone subscribers will jump to 500 million by 2007. Such fast growth justifies the stock's rich p-e, he adds. With cash of $3.58 a share, a software business worth $10, and the phones $8, it's a bargain, says Brueschke.
The company will spin off its wireless business soon. Patrick Lin of Primarius Capital, which owns shares, says the phone IPO could be priced at $5 to $8. Lin says Chinadotcom is a way to play "companies with strong earnings growth in Asia."
Note: Unless otherwise noted, neither the sources cited in Inside Wall Street nor their firms hold positions in the stocks under discussion. Similarly, they have no investment banking or other financial relationships with them.
See Gene on Fridays at 1:20 p.m. EST on CNNfn's The Money Gang.
Before it's here, it's on the Bloomberg Terminal.
LEARN MORE