Fine-Tuning The HDTV Picture
My two columns on high-definition TV (BW -- Jan. 26 and Feb. 2) attracted a lot of interest from readers, much of it in the form of requests for additional information. In this column, I'll try to answer some of those questions.
What about using a video projector and separate movie-style screen as a digital-TV system?
A front projection setup, as it is known in the industry, can be a cost-effective route to a really big TV picture, but probably at something less than true high-definition resolution. Many manufacturers make "home theater" projectors that are similar in design to computer-data projectors but are optimized for video with wide-screen displays and extra-quiet operation. Starting at around $1,500, you can have a display whose size is limited only by the dimensions of your room.
The downside? For best results, you'll want to hang the projector from the ceiling and install a permanent screen. Depending on the complexity of the installation and your choice of screen, this can cost from several hundred dollars to several thousand. Getting the best picture will require dimming the room. And while all of the entertainment-oriented projectors will accept HD input, most of them will reformat it because they do not project at a high enough resolution -- at least 720 lines -- to qualify as HD. Those projectors that do, such as the $7,000 InFocus ScreenPlay 7200, are expensive. Where more affordable projectors can really shine, though, is in showing DVD movies on a big screen.
Since DVDs provide the same resolution as standard TV, why do movies look so much better on an HD display?
First, despite the limitations of the format, DVDs, especially wide-screen versions, contain much higher-quality images than standard broadcast or cable-TV signals -- better quality than most TV sets can display. Second, the makers of high-end DVD players and HD receivers and displays have a bag of electronic and optical tricks that can make that DVD movie look a lot better than it is.
Someday there will be true HD prerecorded movies, but right now the prospects are bleak. The standard DVD does not have enough capacity to hold the enormous amounts of data that HD requires. Unfortunately, rival groups within the consumer-electronics industry are developing two different high-capacity formats known as HD-DVD9, pushed by NEC and Toshiba, and Blu-ray, which is favored by Sony, Panasonic, and other leading electronics makers. Having two incompatible standards is terrible for consumers and for the businesses that produce and distribute content, but that hasn't prevented format wars, such as the ones in the past between VHS and Betamax videotape. You can't buy a player in either format yet, and you don't want to. No recorded content is available, and buying what turns out to be the wrong format would be a costly mistake since the initial products are sure to be expensive.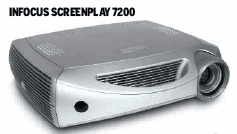 My cable box has HDTV outputs. Do I need an HD receiver or tuner, too?
You would need an external tuner to receive over-the-air HD broadcasts. For cable or satellite, though, the set-top box may be adequate. The equipment supplied by the provider, however, may lack features such as the ability to enhance standard-definition television or to display two channels of video simultaneously (picture-in-picture).
Which of the two main HD formats, 720p or 1080i, is better?
A simple question that has no simple answer. With 75% more pixels than 720p, 1080i definitely offers higher resolution. But 720p does a much better job of handling action scenes without blurring or creating ghost images. That's why the sports network ESPN HD chose 720p rather than the higher resolution.
The good news is that any set that can show 1080i can also display 720p, so if your budget has room for a big set with 1080i resolution, you can buy it and hope that the networks choose the best format for their content.
Before it's here, it's on the Bloomberg Terminal.
LEARN MORE