Australia: Why Rush To Raise Rates Down Under?
Australia's central bank will have to walk a monetary policy tightrope this year. Robust economic growth at home has the Reserve Bank of Australia on alert. Yet, the RBA knows overzealousness could wreck a hot housing market and slow exports.
In its Feb. 9 Statement on Monetary Policy, the RBA was upbeat. The economy entered 2004 with "considerable momentum," and inflation is expected to slip to 1.5% later this year, below its 2%-to-3% target band. Still, the bank sees monetary policy as "mildly accommodative," suggesting further action this year, following two 25 basis point hikes in late 2003 that put the cash rate at 5.25%.
The RBA says the surging Australian dollar, up 33% in the past year, is pushing inflation lower via cheaper imports. But among sectors with little or no foreign trade, such as construction, health care, and education, inflation is up 4.4%. Higher wages, strong home sales, and brisk domestic demand are also seen pushing up prices heading into 2005.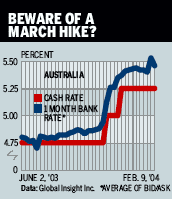 Housing is a big concern. In December, housing credit for both new mortgages and refinancings grew a blistering 23.4% from a year ago. And the level of household interest payments as a share of aftertax income likely hit a new high last quarter. More rate hikes would likely ratchet up the burden because most Australian mortgages have variable rates. So if the central bank goes too far, consumer demand could unravel.
The RBA must also be mindful of how rate hikes will affect exports. It says the spike in the Australian dollar will have a limited impact since higher global prices for commodities, which account for over half of the country's exports, will help offset the drag from a heftier dollar. If, however, the currency strengthens faster than commodity prices rise, exports could take a big hit. Rate hikes could help push the dollar up by attracting more investors, especially since most major central banks show scant sign of raising their rates anytime soon.
Investors anticipate a rate hike in March (chart). However, with some signs that housing is starting to slow, and with the dollar still climbing, the RBA has room to err on the side of caution and wait a while longer.
By James Mehring in New York
Before it's here, it's on the Bloomberg Terminal.
LEARN MORE