U.S.: How Surging Profits Will Fuel The Recovery
Better balance sheets mean capital projects, new inventory, and new hires
Once again, the quarterly profit performance of U.S. corporations has exceeded investors' expectations. Current estimates of earnings growth, measured from a year ago, for businesses in the Standard & Poor's 500-stock index are running in the 25% to 30% range. Economists are projecting a similar advance in the Commerce Dept.'s economywide totals, to be reported in March. To be sure, profit growth in 2004 is destined to slow from these heroic rates, if only because the comparisons from the elevated year-earlier levels will get tougher. However, don't be surprised if earnings continue to come in above expectations in the first half of 2004.
That's because the economy is in the second leg of a recovery in profits that is like no other before in terms of its size, speed, and the factors driving it. The first leg, which began after the earnings recession bottomed out in the third quarter of 2001, was fueled by a widening in profit margins, even in the absence of pricing power and little in the way of sales growth. The mix of productivity gains and layoffs was a key driver. Plus, the elimination of excess production capacity helped to cut fixed costs, and lower interest rates lessened the cost of carrying debt. All this resulted in a widening of margins.
In this second, more powerful phase of the profits recovery, increased demand is boosting top-line revenues. In the second half of 2003, every major demand category, both at home and abroad, accelerated sharply from its first-half pace. And thanks to the previous stage of cost-cutting, more of each revenue dollar is falling to the bottom line. Some businesses appear to be eking out a little more pricing power, especially under the cover of rising import prices. But in general, better pricing power will be the third leg of this profits rebound, which should be more evident later in 2004. For now, the speedup in revenues is coming mainly from companies simply selling more units of their goods and services.
PROFITS HAVE SOARED an estimated 63% from the third quarter of 2001 to the end of last year, based on Commerce's measure. The gain is extremely impressive given that it has occurred in a period of falling inflation. The last time profits performed so well over the course of nine quarters was back in the high-inflation 1970s. A key reason this time around: Although prices charged by nonfinancial companies have fallen at an annual rate of 0.4%, the labor cost of producing each unit of output has dropped even faster, at a 2.7% clip. As a result, a dollar of sales that generated 7.2 cents in profits two years ago now translates into earnings of more than 12 cents.
The focus on costs went a long way to repairing balance sheets. The net worth of corporations is recovering strongly, and cash is pouring in at a rate sufficient to pay for many capital projects, new inventories, and new hires, reducing the need for extra borrowing. As a result, Corporate America is willing and able to contribute more to economic growth, an important factor that will fuel the recovery's momentum in the first half of 2004.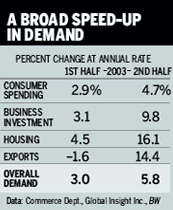 January reports from the nation's purchasing managers show very high levels of activity in both the manufacturing and nonmanufacturing sectors. These soundings bode well for another solid increase in demand in the first half.
Although fourth-quarter real gross domestic product growth undershot expectations, coming in at 4% instead of the 5% widely projected, the shortfall mainly reflected a much smaller increase in inventories than analysts expected. Given continued demand strength, inventories will supply a greater-than-anticipated thrust to overall growth in the first half. And inventory-building will translate to more orders -- and revenue -- for companies.
REVENUES WILL ALSO GET A HAND from other sectors. Most important, consumer spending growth is set to speed up from its 2.6% pace in the fourth quarter, which was a comedown from the third quarter's 6.9% surge. Car sales should strengthen this quarter, as dealers begin a new round of sales incentives. Higher tax refunds resulting from last year's tax cut will boost aftertax incomes. Plus, consumer confidence began the year with a jump, helped by wealth gains from rising stock prices.
Other sectors are set to post healthy sales gains, too, especially companies that export. Reflecting the mix of stronger global demand and the lower, more competitive dollar, exports surged 19.1% last quarter, the biggest one-quarter increase in seven years. Housing will not show the strong growth it did last quarter, but fundamentals such as low mortgage rates, a tight inventory of unsold homes, good income growth, and wealth gains should keep activity at a high level. Finally, businesses are still ramping up their outlays for new equipment, which scored another solid 10% advance in the fourth quarter.
THE PROFITS SURGE is turning out to be a boon for companies, but it is also causing bankers to compete more intensely to bring in new corporate customers. The twist for bankers: Businesses are in the best financial shape in years, making them attractive customers, but some are so awash in cash that they don't need to borrow.
According to Federal Reserve data, nonfinancial corporations in the third quarter of 2003 had internally generated funds that were $78.7 billion greater than their expenditures on plant, equipment, and inventories. That surplus is a post-World War II record by a wide margin, and it most likely swelled further in the fourth quarter.
Since the recession ended, businesses have shelled out $77 billion in new capital spending, while internal funds have grown by $187 billion. Thanks to wider margins, surging profits, and more favorable tax treatment for depreciation, businesses are generating a record amount of cash flow for each unit of real final sales.
No wonder businesses find themselves with the upper hand when it comes to bank lending. The Fed's Feb. 3 survey of senior loan officers showed banks reduced both lending standards and terms for the first time since 1998. It was the most widespread easing since 1993. More aggressive competition and an improving economic outlook were the most important reasons behind the banks' more generous posture.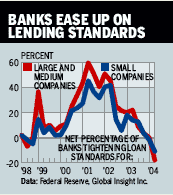 The Fed also reported that demand for commercial and industrial loans, which are typically used for short-term financing of inventories and other operations, posted a net strengthening for the first time in nearly four years. Of the banks that reported continued declines in C&I loan demand, a majority said it was due either to customers' healthy level of internally generated funds or to customers shifting to another bank or to the credit markets.
The bottom line about the bottom line is this: U.S. companies will improve their finances further in the first half because demand domestically and overseas will keep growing. Productivity gains will slow, but they'll remain sufficient to hold the line on unit labor costs, keeping profit margins high. And later on, pricing power will begin to firm up, if only by a little bit, widening margins further. All in all, don't count out some further positive surprises on earnings in 2004.
By James C. Cooper & Kathleen Madigan
Before it's here, it's on the Bloomberg Terminal.
LEARN MORE