Mexico: Solid Growth, Sluggish Government
After three years of sluggish or no growth, Mexico's economy is set to expand by 3% to 3.5% in 2004. The U.S. turnaround will be crucial to Mexico's outlook, since the U.S. buys almost 88% of Mexican exports.
Progress can be seen in Mexico's industrial sector. Production began growing again in October and is now showing its best performance in nearly four years. A 20% depreciation of the peso against the U.S. dollar over the past two years has helped exporters' competitiveness. The economy has also benefited from lower interest rates, a by-product of the drop in inflation, which hit just 3.98% in 2003. In the weekly auction on Feb. 2, 28-day treasury bills, or CETES, fetched 4.88%, down from almost 10% a year ago.
Falling rates have bolstered consumer borrowing. While bank lending to companies has withered, consumer credit has grown some 30% in the past two to three years, and nonbank mortgage lending has also expanded significantly. Easy credit has boosted retail, auto, and home sales, though unemployment is at its highest rate since 1997.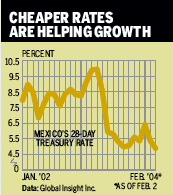 Consumer demand is also getting a boost from a record amount of money sent home by Mexicans working abroad. Last year, remittances jumped 30%, to $13.3 billion, even as the recession caused foreign direct investment (FDI) to fall 24%, to $11 billion. It was the first time ever that remittances exceeded FDI flows.
The 2004 rebound will come none too soon for President Vicente Fox, who took office in 2000 promising that Mexico would enjoy 7% annual growth by the end of his six-year term. But he still faces obstacles to reach that long-term goal. First, the Mexican congress has failed to approve badly needed fiscal, labor, and energy reforms. That has left the federal government with a tight budget and few resources to generate more vigorous growth.
Second, while a limited package of energy reforms may win approval this year, more significant structural overhauls, which could add some stimulus, are unlikely. The sticking point is 11 key gubernatorial elections set for this year. Campaign rhetoric, not serious reform, will dominate Mexico's agenda this year.
By Geri Smith in Mexico City
Before it's here, it's on the Bloomberg Terminal.
LEARN MORE