U.S.: Housing: Another Barn Burner Of A Year
In today's world, faster economic growth may not lift mortgage rates
What will slow housing? The last recession didn't put a brake on homebuilding, sales, or prices; neither did consumer pessimism after the terrorist attacks of 2001. The sector survived the stock market fallout after the corporate scandals of 2002 and the war in 2003. In fact, sales have set records in each of the past three years.
Housing starts in 2003 jumped to a 25-year peak, and increasing home values offset sinking stock prices to be the primary contributor to household wealth over the past two years. An unprecedented 68.4% of families own their homes, a percentage that has been climbing since the early 1990s.
Will 2004 be another banner year? More gains seem unlikely, especially after such a long, steep climb. In general, analysts see a mild slowdown. That forecast is based partly on a rise in mortgage rates, a scenario that seemed more likely after the Federal Reserve's meeting on Jan. 27-28. The Fed began to talk about "removing" policy accommodation instead of "maintaining" it, as the Fed had stated in previous post-meeting communiqués.
The bond market reacted sharply, pushing long-term interest rates higher. Bond players interpreted the Fed's change in language to mean that a rate hike was now more imminent, even though the Fed's assessments of brisk economic growth and muted inflation remained unchanged from its Dec. 9 statement.
But the bond market may well be getting ahead of itself. The Fed still has a considerable amount of leeway to go before it needs to hike rates. One new twist in today's economy is that solid growth and low rates can coexist for a longer period of time than in past recoveries. If mortgages hold below 6%, housing starts and sales could stay at 2003's levels.
PERHAPS THE STRONGEST ARGUMENT for why mortgage rates may not rise as much this year as the current bond-market fears suggest comes down to a key fundamental: Inflation expectations are a big determinant of long rates. And in this new era of global economics, the traditional link between U.S. growth and inflation is far weaker than in the past.
The U.S. can post rapid growth for a considerable period without bumping against the usual constraints, such as production bottlenecks and labor shortages that have generated inflation pressures in the past. What has happened is that the U.S. economy is increasingly dependent on foreign production capacity and labor to meet domestic demand. Global manufacturing capacity is growing at rapid rates, especially in China and emerging Asian economies, while U.S. companies are outsourcing more jobs to countries such as India and the Philippines. As a result, the U.S. has unprecedented leeway for noninflationary growth at very low interest rates.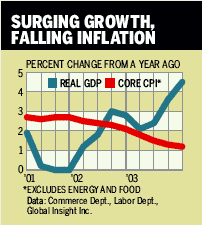 Just look at recent history. Since the recovery began in late 2001, real gross domestic product has expanded at an annual rate of 3.7%, with growth rising to about 4.5% in 2003. Yet core inflation, which excludes energy and food, continues to slow. The annual rate stood at 1.5% in June and dropped to 1.1% in December.
The power of low rates can be seen in the latest housing data. Builders and realtors were busy in December, despite extreme winter weather in many parts of the country. Starts rose 1.7%, to an annual rate of 2.09. Sales of new homes fell 5.1% but stayed above the million mark for the tenth straight month. And existing home sales jumped by 6.9%, to 6.47 million. The fuel from low rates kept pumping in January. The four-week moving average for mortgage applications to buy a home hit an unprecedented high on Jan. 23.
For now, housing trade groups expect some slowdown. The National Association of Home Builders projects starts will total 1.77 million this year, just a 4.2% drop from the 1.85 million units begun in 2003. The National Association of Realtors forecasts new homes will sell at a 1.01 million rate, down from the 1.09 million in 2003, and existing-home sales will add up to 5.85 million, vs. 6.1 million last year. Still, these forecasts imply that 2004 will be the second-best year for total sales, after 2003.
HOUSING'S RESILIENCE can be traced to two key factors: demographics and mortgage rates. The shifting population is a slow-moving predictor of housing demand. Every new household needs a place to live. According to the U.S. Census Bureau's latest projections, made a few years ago, new households were expected to increase by about 1%, or by more than 1 million, in each of the past three years. The bureau predicted households will increase by 1.1 million in 2004.
New immigrants are a significant part of that growth. Census numbers show 32.5 million foreign-born residents were living in the U.S. in 2002, up from 19.8 million in 1990. And their homeownership rate rises the longer they live in the U.S. For instance, 77.1% of naturalized citizens who entered the country in 1974 or earlier own their homes, but the rate drops to 60.1% for naturalized citizens who entered after 1974. The jump in immigration in the 1990s represents a large segment of the population that has yet to enter the housing market.
As long as demand stays solid, home prices will keep rising, bolstering consumer finances and confidence this year. Household optimism certainly began 2004 with a bang: The Conference Board's index of consumer confidence jumped five points in January, to 96.8. Confidence also fuels homeownership, since optimistic consumers feel comfortable about taking on the responsibility of a 30-year mortgage.
THE OTHER KEY DRIVER of housing demand is financing. Deregulation and new financial-market products introduced over the past two decades have increased the flexibility of the financial system and have helped to keep mortgage money flowing, especially to lower-income families who were once cut out of the mortgage market.
At the same time, low interest rates have put homeownership within the reach of more consumers. That has been especially true in the past few weeks as yields on long-term Treasury securities, along with other credit instruments, have fallen sharply. In mid-January, the rate on a fixed 30-year mortgage tumbled almost a quarter-point in one week, to 5.66%. That was the lowest rate since the huge bond rally of last summer.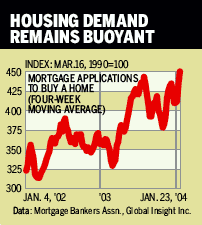 Economists are projecting the 30-year rate will average between 6.1% and 6.5% this year. That's a small gain from the 5.8% average of 2003, and it would lift a monthly mortgage payment by only $45 at most for every $100,000 borrowed. That won't have a big impact on housing affordability, especially if jobs and incomes begin to rebound at a faster pace.
Moreover, with no inflation worries to brood about, the Fed will be able to keep rates low for a long time, perhaps even for the rest of 2004. That's why mortgage rates may not break above 6% this year. If so, look for more consumers to make the leap into homeownership. And housing may not fall by even the small amounts forecasters now expect.
By James C. Cooper & Kathleen Madigan
Before it's here, it's on the Bloomberg Terminal.
LEARN MORE