This Disease May Zap A Whole Industry
Spreading avian flu could devastate Thailand's enormous poultry exports
From its humble roots as a seed distributor, CP Foods has grown into a mainstay of Thailand's economy. The company now raises pigs, chickens, and shrimp and sells meat to Japanese and European supermarket chains such as Seibu and Tesco PLC. These days, CP's ambitions are so vast that it calls itself "The Kitchen of the World."
Suddenly that claim rings hollow. Since mid-January, when it became clear that avian flu had struck Thailand's poultry population, the world has turned its back on the country's chicken. The industry's biggest customer, Japan, has banned all Thai poultry shipments, while the European Union and Singapore have suspended imports of fresh and frozen poultry. Local sales are plunging, too, as Thais spurn chicken in favor of pork or seafood. "It's just a panic situation," says Phongsak Botaboonapinya, assistant vice-president of CP Foods' export arm. "But we're very confident our birds are safe."
Thailand is just one of nearly a dozen countries to which avian flu has spread. Vietnam has been the worst hit, with six human deaths attributed to the disease. China, Japan, and Indonesia have also reported cases of avian flu, and tens of millions of birds have been slaughtered across Asia. The World Health Organization says the outbreak's scope is unprecedented and has called for international cooperation to fight the disease. A mutating virus that could more easily spread among humans "is the biggest public health risk," says Dr. Bjorn Melgaard, WHO Representative to Thailand.
Thailand, though, is in the greatest economic peril. The spreading disease could devastate one of the country's most important industries. As the world's fourth largest poultry exporter, Thailand last year earned about $1.3 billion from sales of fresh, frozen, and processed chicken, duck, and turkey -- about 2% of total export revenues. Large industrial poultry producers such as CP Foods, Saha Farms, and GFPT employ hundreds of thousands of workers. CP Foods alone may see its earnings plunge 46% this year because of the outbreak, according to Phatra Securities Co. Before the epidemic, the brokerage projected profits of $102 million for CP Foods. And some 15 million people -- a quarter of the population -- are dependent on income from Thailand's 3.2 million family farms, where most poultry is raised. All told, the epidemic could shave 0.9% off gross domestic product this year -- and that's only if exports resume within five months, Phatra says.
DAMAGE CONTROL. Thai Prime Minister Thaksin Shinawatra is scrambling to contain the damage. The government has dispatched soldiers and prisoners into the countryside to kill and bury chickens in contaminated areas. So far, 10.5 million birds have been slaughtered, though that's a fraction of the 250 million chickens in Thailand. To ease the hardship for farmers, Thaksin has earmarked a $64 million fund to pay out $1 per chicken killed.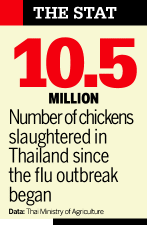 Many say Thaksin should have reacted earlier. Even though birds had been dying by the thousands since November, Thaksin denied there was a problem, sitting down with his Cabinet for a much-publicized lunch of fried chicken on Jan. 20. When the Prime Minister acknowledged three days later that there was indeed a flu outbreak, his -- and Thailand's -- credibility took a big hit. The European Union said that Thai assurances of safety and quality were not enough. But Thaksin has said that he didn't want to alarm the general population until the government knew the facts. Farmers, including the father of one boy who died, have accused him of covering up the disease. "The Prime Minister should prove that there was no intention of cover up by ordering an investigation into who knew what and when," says Abhisit Vejjajiva, deputy leader of the opposition Democrats Party.
In an attempt to shore up his credibility, Thaksin hastily organized an international forum on the disease. On Jan. 28, experts from the WHO and more than 25 countries met in Bangkok to find ways to tighten their defenses against the epidemic. "The enemy we face is no less deadly than SARS," Thaksin told the gathering. "We must fight back before getting struck with a more deadly blow." Participants recommended culling as the most effective prevention but also urged maximum transparency and closer intergovernmental cooperation in surveillance and bio-security.
Thailand's big poultry producers, meanwhile, claim they are being unfairly blamed for the outbreak. They may have a point. Unlike the mom-and-pop farms where chickens mix freely with people, making it easier for the disease to jump to humans, the big producers raise their birds in air-conditioned sheds with high standards of hygiene and bio-security, international officials say. "Our company is safe, but importers cannot be sure that the source of the chicken is safe or not, so they ban all companies," says Thamonwon Viraponsirakain, GFPT's company secretary. In an effort to reassure consumers, CP has launched an ad campaign in Thailand featuring employees shampooing before entering its state-of-the art facilities. It will take more than TV ads, though, to return Thailand's poultry industry to its highflying days.
By Frederik Balfour in Bangkok
Before it's here, it's on the Bloomberg Terminal.
LEARN MORE