By Gene G. Marcial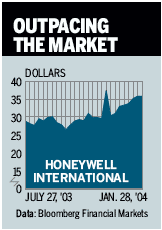 Many analysts are sour on Honeywell International (HON ), but some investors are buying shares because they smell a takeover. Who might buy the world leader in aircraft electronics and small jet engines?
The talk is that United Technologies (UTX ) will make another pass following its first offer of 51 a share on Oct. 20, 2002 -- before it was edged out by General Electric's (GE ) bid of $55 two days later. But the European Commission blocked GE. United tried again, right after GE failed, but was turned down flat. Honeywell rose from 26 in September to 37.70 on Jan. 16 -- before easing to 35.70. John Inch of Merrill Lynch (MER ), who tags the stock a buy just on fundamentals, says United is still very interested -- and frustrated. But he doubts Honeywell is eager for a deal. "CEO David Cote likes the way he's running what he sees as a premier enterprise" says Inch. United and Honeywell declined comment.
Inch sees profits of $1.56 a share in 2003 and $1.55 in 2004, rising to $2.05 in 2005. His 12-month price target: 41. Merrill owns stock. Richard Steinberg of Steinberg Global Asset Management, who owns shares, says aerospace is poised to turn around, which would be a boon to Honeywell. Analysts' estimates are too low, he adds. Bernie Schaeffer of Schaeffer's Investment Research likes the stock's technicals: It has outscored the Dow and S&P 500 indexes since October. And it has recovered 50% of its drop from its high of 68.62 in 1999. That's "very positive," says Schaeffer.
Note: Unless otherwise noted, neither the sources cited in Inside Wall Street nor their firms hold positions in the stocks under discussion. Similarly, they have no investment banking or other financial relationships with them.
See Gene on Fridays at 1:20 p.m. EST on CNNfn's The Money Gang.
Before it's here, it's on the Bloomberg Terminal.
LEARN MORE