Telik's Promising Tumor Treatments
By Gene G. Marcial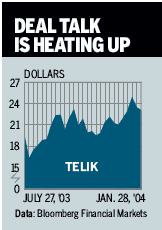 Telik (TELK ), which develops drugs for cancer -- mainly chemotherapy-resistant solid tumors -- and diabetes may be the next biotech buyout. So says Mark Monane of investment outfit Needham, who identified Esperion Therapeutics (ESPR ) in early December as buyout bait. By late December, Pfizer (PFE ) said it was buying Esperion. (Needham has done banking for Telik.)
Telik has been hot, soaring from 10 last February to 26.21 on Jan. 12, 2004, before easing to 23.70. Monane says Telik could be next because its Telcyta is the "most promising unpartnered, small-molecule compound in late-stage development." Monane expects FDA approval by 2006. Telcyta targets breast, colon, lung, and ovarian cancer, he says. With $222 million in cash, Telik could bring Telcyta to market.
Monane sees Telik finding a European marketing partner this year who could end up buying it. Possible partners: France's Aventis (AVE ) or Britain's GlaxoSmithKline (GSK ). The stock is a strong buy, with a 12-month target of 33, says Monane. He sees Telik turning a profit in 2007, earning $2.51 a share on sales of $254 million. Meirav Chovav of UBS (UBS ), also bullish, has a target of 30.
Note: Unless otherwise noted, neither the sources cited in Inside Wall Street nor their firms hold positions in the stocks under discussion. Similarly, they have no investment banking or other financial relationships with them.
See Gene on Fridays at 1:20 p.m. EST on CNNfn's The Money Gang.
Before it's here, it's on the Bloomberg Terminal.
LEARN MORE