U.S.: The Economy's Big Mo Is Beating Expectations
Depleted stockpiles and thriving exports are powering GDP growth
After growing at a surprisingly rapid 8.2% annual rate in the third quarter, a pace attributed partly to the boost from last year's tax cut and some other one-shot factors, the economy was widely expected to fall back to reality in the fourth quarter. In mid-November, economists on average projected fourth-quarter growth of 3.8%. Now, though, based on the quarter's available monthly data, it looks as though another growth surprise could be in the cards when the Commerce Dept. reports on gross domestic product on Jan. 30. Real GDP growth in the 5%-to-6% range looks increasingly possible.
As it turns out, inventory building, exports, and consumer spending appear to have contributed much more to the quarter's growth than previously anticipated, even as housing and business investment in new equipment continues to zip along at double-digit paces. Moreover, the economy is showing that it has the momentum to maintain a solid pace this quarter.
The fourth quarter's better-than-expected showing is a sign that an old-fashioned upswing in the business cycle is finally under way. After two years of sputtering growth since the recovery began in November, 2001, both businesses and consumers are gaining confidence in the future. Plus, investors are taking their upbeat attitudes to the financial markets. In turn, stock market gains, along with low long-term interest rates and a more competitive dollar are helping to propel demand both at home and abroad.
NEW FAITH IN THE FUTURE is the chief reason businesses are shouldering more of the load in moving the economy forward. Amid surging profits and friendlier borrowing conditions, companies are boosting their capital spending. Investment in plant and equipment may have added as much as one percentage point to growth in the fourth quarter.
In addition, many businesses last quarter suddenly discovered that their inventory levels were too low for the faster pace of demand, so they began to restock warehouses. In November, inventories at manufacturers, wholesalers, and retailers increased 0.3%, after 0.4% advances in both September and October.
As a result, inventory restocking added sharply to fourth-quarter growth. Monthly inventory numbers are available only through November, but the data suggest the shift from liquidation in the third quarter to inventory accumulation last quarter, by itself, contributed more than a point to fourth-quarter GDP growth.
That's a shift from earlier in 2003, when inventory levels lagged far behind the pace of sales. In the first three quarters of last year, inventories of goods, adjusted for inflation, fell at an annual rate of 0.3%, but sales of goods increased at a 9.2% rate. The ratio of inventories to sales, a measure of the adequacy of current stock levels, has fallen sharply since April. It's still at levels well below its long-run trend, suggesting insufficient stockpiles.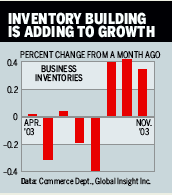 Just look at the retail sector. Excluding the ups and downs in cars on dealers' lots, nonauto store inventories have grown for two quarters in a row, but nonauto retail sales still far outpaced the increases in stock levels.
The efforts among retailers and other businesses to restock shelves are a key reason industrial activity is picking up and will continue to do so. Although industrial production in December rose a scant 0.1%, manufacturing output increased 0.3%. For the quarter, factory production grew at an annual rate of 6.6%, the fastest quarterly pace in 3 1/2 years. That pace will most likely quicken in the first quarter, given the steep upward trend in new orders in recent months.
A PICKUP IN FOREIGN DEMAND also fueled faster-than-expected economic growth last quarter. In fact, the combination of stronger global demand and the declining dollar appears to be bearing fruit for U.S. exporters. In November, foreign-bound shipments posted their third strong gain in a row. And since August, exports of goods and services have grown at an annual rate of 40%, twice the pace of imports. That has caused the November trade deficit to shrink to $38 billion, the smallest in more than a year. The gap for the entire quarter did not widen as much as expected, resulting in only a small drag on the quarter's GDP growth.
The latest export data corroborate recent numbers from the nation's purchasing managers, who reported in December that foreign demand was the strongest in 14 years. That reading suggests continued export strength early this year. Emerging Asia and Canada have been the regions leading the pickup in export demand.
THE CONTRIBUTIONS TO GROWTH coming from businesses and foreigners join those made by the economy's old workhorse, the American consumer. A strong quarter for vehicle sales and a decent holiday shopping season means real consumer purchases grew by about 3% last quarter. Consumer spending that solid adds about two points to overall real GDP growth.
More important, the supports that fueled yearend household demand are still evident this quarter. First, the July, 2003, tax cut means bigger-than-normal tax refunds. By one estimate, aftertax income in the first half will increase some $60 billion, at an annual rate. Second, job growth, which is already slowly turning up, should accelerate during 2004, also adding to incomes.
Lastly, households should soon recover all of the wealth lost after the stock markets collapsed. According to the latest data from the Federal Reserve, household net worth -- total assets minus liabilities -- rose to $42.1 trillion in the third quarter. Gains in mutual funds and real estate values offset the increases in mortgages and credit-card debt. In the third quarter, household wealth was just 3.5% shy of its peak hit in the first quarter of 2000. And given the continued advances in stock prices and home values in the fourth quarter, wealth should soon equal its old high and hit a record in 2004.
The rising stock market is also bolstering consumer optimism. The University of Michigan's index of consumer sentiment jumped to 103.2 in mid-January, from 92.6 in December. When consumers are upbeat about the economy, they're more likely to keep spending.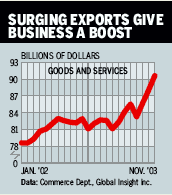 Confident consumers are also willing to shell out big bucks to buy a new home. Residential construction may have added as much as one point to fourth-quarter real GDP growth. Housing starts in December hit a 20-year high of 2.08 million, at an annual rate. For all of 2003, starts hit a 25-year peak of 1.85 million. The National Association of Home Builders projects starts will decline only a bit in 2004, to 1.77 million. Extreme winter weather could delay some projects this quarter, but with mortgage rates now below their fourth-quarter average and expected to hold around 6%, there's still a lot of home buying interest to keep builders busy.
Add it all up, and fourth-quarter growth of 5% to 6% looks not only possible but likely. Now the big question is this: Will first-quarter real GDP beat expectations by growing faster than the consensus forecast of 4.4%? Given the economy's momentum, that possibility can't be ruled out.
By James C. Cooper & Kathleen Madigan
Before it's here, it's on the Bloomberg Terminal.
LEARN MORE