Microvision Puts A Scanner On Your Cap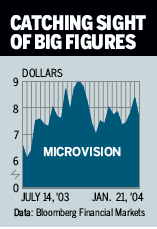 Microvision (MVIS ), a leader in scanners, keeps luring big customers. CEO Richard Rutkowski has signed up Honda Motor (HMC ), Boeing (BA ), Stryker (SYK ), and the U.S. Army. Microvision makes Nomad, an enhanced-vision system mounted on a baseball cap. It uses a scanning mirror and a beam of light to project images on the user's retina.
An auto mechanic wearing Nomad, for example, could keep his hands and eyes at work on the car, without looking away at a screen to refer to any computer data he might need. Likewise aircraft techies, surgeons, or tank commanders. Microvision also has orders from Volkswagen to supply Nomad's gear in its cars, so drivers can view dashboard numbers on the windshield. Nomad will also go into Canon (CAJ ) cameras, upping the viewfinder's resolution eightfold.
The market for Nomad tops $1 billion, estimates James McIlree of C.E. Unterberg Towbin, who rates Microvision a long-term buy. The stock has sprinted from 3.43 last March to 7.54 on Jan. 21. McIlree has a 12-month target of 9.50 to 11.50. Rutkowski says the Big Three carmakers are testing the Nomad system. He figures sales -- estimated at $15.3 million in 2003 -- will hit $200 million in "several years." The company is in the red, but he sees profits in 2005.
Note: Unless otherwise noted, neither the sources cited in Inside Wall Street nor their firms hold positions in the stocks under discussion. Similarly, they have no investment banking or other financial relationships with them.
See Gene on Fridays at 1:20 p.m. EST on CNNfn's The Money Gang.
Before it's here, it's on the Bloomberg Terminal.
LEARN MORE