Israel: Tech Gets Growth Going
The worst recession in Israel's history is finally over. After 11 quarters of declines or little growth, real gross domestic product picked up steam in the second half of 2003. And prospects are good for 2004.
The main factor was an 8% rise in exports last year, the first significant increase since 2000. Greater global demand, especially for high-tech gear, was key to the turnaround because products such as software and computer chips account for nearly half of the country's industrial exports.
In the second half, shipments to Israel's largest export market, the U.S., jumped 30% from the previous year. Exports to Asia climbed 25%. Economists are predicting a 10% increase in exports for 2004 based on stronger growth in Israel's major markets.
The venture-capital industry, which closely mirrors the state of the high-tech sector, has turned cautiously optimistic. Investments in startup companies plummeted from a record $3.2 billion in 2000 to only $1 billion in each of the past two years. But for 2004, several venture firms are planning to raise new investment funds.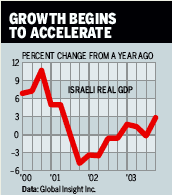 The slowdown in tech demand was just one of two major problems for the Israeli economy. The other was the more than three years of violence between Israelis and Palestinians. The main impact has been on tourism and construction as well as on private consumption. These sectors are just now starting to show some improvement, partly because the Bank of Israel has cut interest rates to stimulate the economy.
Despite the nascent recovery, problems remain. The federal deficit hit 5% of GDP last year, and the government has been forced to cut its budget for two years in a row. Unemployment is a hefty 10.8%. And with demand so weak, prices fell by 1.9% last year.
Thanks to exports, the economy is expected to grow between 2.5% and 3% this year. That is about half the rate for much of the '90s. But there is little chance for the return of stronger growth unless the security situation shows sustained improvement. That will depend on a return by the Israelis and the Palestinians to the negotiating table.
By Neal Sandler in Jerusalem
Before it's here, it's on the Bloomberg Terminal.
LEARN MORE