Hidden Champions
The little-known European companies that are conquering the world
Even local taxi drivers have trouble finding the corporate headquarters of German manufacturer Herbert Kannegiesser. The four-story building is tucked down a side street in a small industrial park in the rural burg of Vlotho, a town of 21,000 west of Hanover. Inside, the office décor is utilitarian. But Kannegiesser, a maker of machines for heavy-duty laundries, is anything but provincial.
Producing equipment that can process tons of bedsheets or hospital uniforms may not seem like a glamorous business. Yet without companies like Kannegiesser, the European economy would be in a lot more trouble than it is. Kannegiesser is one of two that dominate its lucrative niche worldwide. Most important, Kannegiesser, with annual sales of $188 million, has managed to continue adding jobs and boosting sales even during the downturn.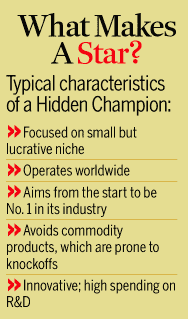 Kannegiesser is a hidden champion. While European corporate giants such as DaimlerChrysler (DCX ), ABB (ABB ), or Vivendi Universal (V ) are still struggling out of the slump, Kannegiesser and dozens of other small, outstanding companies are quietly injecting crucial dynamism into the European economy. Of about 100,000 midsize industrial companies in Germany, an estimated 8% are in a class of excellence by themselves by virtue of their superior growth, financial strength, global reach, and consistent innovation, according to a study carried out by the Bonn Institute for the Study of Medium-Sized Companies. "These companies set the standard because they are fast-moving and flexible," says Michael Bretz, chief economist at Creditreform, a German rating agency. "They keep alive the tradition of Germany as a land of inventors."
Hidden champions -- a term that entered European business lingo after the publication in 1996 of a book with that title by Bonn consultant Hermann Simon -- can be found all over the region. They are in spots such as Altavilla Vicentina, Italy, where the Zamperla family makes the rides found at Disneyland and other big amusement parks. Or in Stockholm, where Assa Abloy is the world's biggest lockmaker. They range from near-giants like British packaging company Rexam PLC ($5.6 billion in sales) and French optical specialist Essilor ($2.9 billion in sales) to relative minnows like Norwegian recycling specialist Tomra Systems ($363 million in sales) or La Sportiva, an Italian maker of climbing shoes ($77 million). Hidden Champions pursue a clearer strategy, manage their finances more professionally, provide superior customer service, and invest more in research and development than their poorer-performing peers, according to the Bonn Institute.
These companies -- a select dozen are profiled in the following pages -- don't get much help from the government, and, in fact, they struggle with high taxes and needless bureaucracy. Yet they have what it takes to move forward even against economic headwinds. Highly focused, their survival depends on doing one thing extremely well. That do-or-die business model helps explain why an outfit like Kässbohrer All-Terrain Vehicles Inc. can outsell a giant like Canada's Bombardier Recreational Products Inc. in providing snow-grooming machines for ski resorts. "These companies always aim to be No. 1," says Robert Stein, a director in the Munich office of venture capital firm 3i. And they don't mean No. 1 in home markets -- they want top honors in the global sweepstakes.
To achieve that kind of reach, the champs have learned to manufacture and market worldwide with the aplomb of big conglomerates. London-based Rexam, the world's largest maker of beverage cans, has 66% of the market in South America and 25% in the U.S. These companies and their robust overseas business are one reason industrial production in the euro zone is showing surprising resilience in the face of the soaring strength of the euro. New industrial orders rose 1.6% in October, the most recent reported month, according to European statistical agency Eurostat. Product strategy is also key to success in this elite class: None of these champs relies on selling a commodity product that can be knocked off by an Asian manufacturer. For them, the European economic model -- based on a highly skilled, well-paid workforce -- still works pretty well. While plenty of champions produce overseas, the need to keep a close watch on quality helps keep the core business close to home. "The educational level of the workforce is still very high," says Herbert Schulte, president of the Federal Association of Medium-Sized Business in North Rhine Westfalia, a region thick with smaller industrial companies.
What sets champions apart is their ability to constantly innovate and improve their products. Dassault Systèmes, a French software maker specializing in sophisticated computer-aided design, pumps more than 28% of revenues back into R&D. And because the owners are often in charge, they can react to change quickly. In the early 1990s, Kannegiesser CEO Martin Kannegiesser realized that consolidation among commercial laundries was creating demand for systems that could handle massive amounts of laundry. So, with a series of acquisitions, Kannegiesser switched direction. It expanded its line of ironing and folding machines to include industrial washers and driers. In the past four years, the company has doubled sales and created 200 jobs. Owner-operators "are very concentrated on their markets," says Kannegiesser.
Small dynamic companies can fail. Plettac, a German maker of scaffolding that author Simon identified as a hidden champion in 1996, became insolvent during a slump in German construction. Several others, such as harmonica maker Hohner or office supplies company Herlitz, also endured crises. "These aren't miracle companies. They face the same risks," says Simon, a former business school professor who founded Bonn's Simon-Kucher & Partners, a world leader in giving advice to companies on how to price their products. Sometimes, however, hidden champions become big. One of Simon's original picks was a relatively unknown software maker located in rural Walldorf, Germany. Today, SAP (SAP ) has annual sales of $9 billion and is the world's biggest maker of enterprise software, which giant corporations use to manage functions such as procurement and personnel. Dassault Systèmes got its start as part of France's Avions Marcel Dassault, when company engineers developed their own software package to build the Mirage fighter. It worked so well that management decided to spin off the software operation in 1981. It is now the world's No. 1 provider of computerized design systems for aircraft and automobiles.
Crucial Development
One big issue for family-owned champions is succession. Will sons and daughters have the talent or inclination to carry on the tradition? If not, will the strong-willed family CEO be able to cede authority to outside managers? Whether or not the company is family-owned, it's crucial that Europe continue to produce new crops of strong businesses. It's not a given. Too many of Europe's mid-tier corporations aren't champions. They have too much debt and are too dependent on local markets, which has led to a wave of bankruptcies. Last year, amid tepid growth in Europe, 150,000 companies went broke -- a 10.7% increase over the year before -- leaving 1.6 million people jobless.
The good news: Bankruptcies are leveling off, and entrepreneurs are still creating new companies at a greater rate than old ones go under. In Germany, nearly one-quarter of all family-owned industrial companies have been founded since 1990. A recent survey sponsored by 3i, Microsoft (MSFT ), Boston Consulting Group, and PricewaterhouseCoopers found some 250 companies in Europe that had managed 20%-plus growth over five years and between them created 111,000 jobs. There are signs that many smaller companies that survived the downturn are emerging leaner and healthier. "They have done their homework, and now they are in a position to profit from an upturn," says Klaus-Heiner Röhl, a specialist in midsize companies for the Cologne Institute of German Economics. Keep an eye on these champions. If the economy does begin to heat up, one or two of them may be as famous as SAP a few years down the road.
By Jack Ewing
Before it's here, it's on the Bloomberg Terminal.
LEARN MORE