Germany: Will A Strong Euro Kill Foreign Demand?
Germany's economy may be on the mend. Factories are ramping up production, and some businesses are beginning to invest in new capital equipment, thanks in large part to greater foreign demand. However, a rapidly rising euro and a tepid labor market present enormous hurdles.
After three tough years, manufacturers see some light at the end of the tunnel. In November, industrial production rose 1.3%. That has fourth-quarter factory output on track for its best performance since 2000. And factories will get busier since November industrial orders rose 0.5%, following a steep 2.3% gain in October.
Many of those are from abroad. Indeed, foreign demand has risen four months in a row and November exports were up 4.1% from October. But there are signs a heftier euro is weighing on orders from overseas. While the value of goods shipped to countries using the euro climbed 4.6% from a year ago in November, exports outside the European Union were off 4.8% over the same period.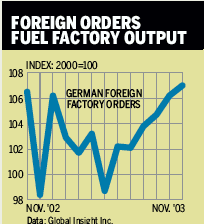 Germany is the euro zone's biggest exporter, making it more vulnerable to a currency rise than other zone members. If the euro keeps climbing, exports will become more expensive and imports more affordable, putting added strain on German businesses.
Even so, exports will likely remain the key source of growth this year. That's because conditions at home remain weak. November retail sales fell 4.8%, and GfK Gruppe, a German market research company, said Christmas sales slipped 5% from last year.
As long as the job markets remain weak, consumers will be cautious. But there is scant evidence businesses are hiring. Government work and training programs, along with changes in counting the jobless, account for much of the recent fall in unemployment. The December purchasing managers' surveys for the factory and service sectors showed more job paring. Businesses want to cut costs and are happy to satisfy extra demand by lifting productivity. That may be why domestic capital spending is improving. It's more good news for German factories, but it means overall growth in 2004 could be underwhelming.
By James Mehring in New York
Before it's here, it's on the Bloomberg Terminal.
LEARN MORE