By Gene G. Marcial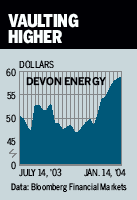 As energy prices surge, Devon Energy (DVN ), a top independent U.S. oil-and-gas outfit, is on a roll. Its stock jumped from 46 in October to 58.95 on Jan. 14.
John Maloney of M&R Capital Management, which has been buying, says Devon, is cheaper than its rivals -- and a takeover prize for the majors. Rising demand -- with supplies flat, particularly in natural gas -- is bound to continue, he says, despite what the Street thinks. He reckons Devon is worth 80, based on his 2004 earnings estimate of $7.74 a share -- provided oil stays at $30 a barrel and gas at $5.50 to $5.75 per million BTUs. (Zachs Investment Research's 2004 estimate is $5.03.) Devon revenues are 60% gas; 40% oil. He says investment banks are rushing to find matches for reserve-rich brides like Devon.
Overseas, Devon operates in Africa, Azerbaijan, Brazil, Canada, and China. Its reserves are 2.2 billion barrels, with daily output of 653,000 barrels. Maloney says Devon's hefty cash flow of $16 a share and low price-earnings ratio of 7.6 on next year's earnings should lure suitors. David Khani of Friedman, Billings, Ramsey rates the stock "outperform" and agrees Devon is among the cheapest in the group.
Note: Unless otherwise noted, neither the sources cited in Inside Wall Street nor their firms hold positions in the stocks under discussion. Similarly, they have no investment banking or other financial relationships with them.
See Gene on Fridays at 1:20 p.m. EST on CNNfn's The Money Gang.
Before it's here, it's on the Bloomberg Terminal.
LEARN MORE