U.S.: Manufacturing Looks A Lot Healthier This Year
Production is up -- but industry's long-term problems haven't gone away
The travails of U.S. manufacturing are exhaustively documented: The sector generates a dwindling share of Corporate America's profits. Foreign competition is relentless, especially outside of high-tech industries. Pricing power has vanished. Factories are hemorrhaging jobs. There is little hope that these long-run trends will ever reverse. But in 2004, these burdens won't feel as heavy as they have over the past four years. That's because the swing in the business cycle, which is always felt keenly in this sector, is driving industrial activity out of its doldrums.
The downturn in the economy, which began with the stock market bust in 2000, magnified manufacturing's structural problems. Now, though, short-term forces -- ranging from stronger U.S. and global demand to a declining dollar and unusually low interest rates -- are livening up manufacturing's outlook.
Business demand for new equipment and inventories is set to power production at growth rates not seen since the late 1990s. The dollar's decline and stronger global growth are boosting exports. Import prices have started to rise amid stronger demand, so pricing power is beginning to firm up. And most important, activity is finally accelerating to the point where manufacturers will be looking to add more workers in coming months.
Clearly, this cyclical relief is no panacea for long-term shrinkage resulting from structural problems. But the fact is, in the coming year, the health of Industrial America will revive significantly. And that will enhance the overall economy's performance.
THE MOST COMPELLING EVIDENCE of improvement comes from the December report of the nation's factory-sector purchasing managers, compiled by the Institute for Supply Management (chart). The ISM's index of industrial activity -- a composite reading of orders, production, employment, delivery times, and inventories -- rose strongly to 66.2%, confounding forecasters, who had expected it to retreat from its two-decade high of 62.8% reached in November.
Historically, readings at those levels have been hit only during manufacturing booms. In fact, the ISM index' fourth-quarter average of 62% has been associated with manufacturing output growing at a torrid annual rate of about 12%. That means November's 1% jump in the Federal Reserve's measure of factory production, the largest monthly gain since 1999, may have been less a fluke than a precursor of strength.
Another sign of sturdiness to come was the ISM's index of new orders. It rose to 77.6%, the highest level in its 53-year history. The showing strongly suggests that the 1.4% November drop in the Commerce Dept.'s tally of new orders will be reversed in coming months.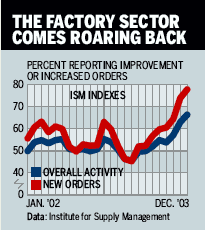 Much of the gain will be centered in the tech sector. If there is one structural advantage for manufacturing, it is this: The U.S. remains the prime source of global innovation, especially for technologically advanced gear. That's why output of U.S. tech machinery has been so impressive lately. Business spending on high-tech equipment has grown for three quarters in a row. U.S. real exports of computers are up almost 10% from a year ago. And shipments will continue to grow in 2004, since computers and electronic components were two of the industries reporting order increases in the ISM's December survey.
Better yet, the manufacturing rebound is not just a U.S. story. A monthly index of global factory activity, compiled by J.P. Morgan Chase & Co. (JPM ) and covering some 7,000 companies worldwide, rose in December to its highest mark in the gauge's six-year history. Morgan economists say the increase reflects a "powerful, widespread" global-manufacturing recovery.
Stronger global growth, along with an increasingly competitive dollar, will add more fuel to the factory rebound. The ISM said its December index of export orders hit a 14-year high. In the six months ended in October, the latest available government data, U.S. merchandise exports grew at an annual rate of 15%. In early 2004, exports appear set to speed along at an even faster pace.
MORE PRICING POWER is on the way as well. First, because of the lower value of the dollar, prices of imported goods are rising. Not by a lot, but that's a big turnaround from the trend of declines in recent years, and it gives U.S. manufacturers cover to lift their prices.
In addition, U.S. factories are starting to use up some of their idle capacity, and they will take up more slack as the recovery continues. Factory operating rates are already starting to rise from their recession levels. The combination of faster output and successful efforts to pare excess capacity could boost utilization rates quickly.
For example, since the late 1990s, manufacturing-capacity growth has slowed from more than 8% to just over 1% (chart). If production grows at a 10% annual rate in coming months, about par for a recovery, then the capacity utilization rate will hit 80% by summertime. Of course, foreign competition is here to stay, but at that operating rate, many manufacturers will have more ability to make price hikes stick than they do now.
Perhaps the best sign that industrial slack is being significantly reduced is the ISM's index of supplier deliveries. It measures the percentage of companies reporting slower delivery times, a sign that markets and distribution channels are tightening. In December, this gauge rose to its highest level since 1995. In the past, the index has tended to foreshadow movements in prices of intermediate factory goods -- those items that are one step removed from finished goods.
LONG-SUFFERING PAYROLLS also are ready to turn up. In response to stronger demand and production, the manufacturing workweek has risen sharply. Given that factories increasingly rely on temporary workers, the steep upturn in temp jobs since April bodes well for more permanent slots to open up in manufacturing.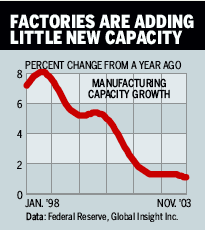 Any rise in factory employment may not change perceptions about the long-term downtrend in manufacturing jobs. But the hiring certainly will begin to support overall employment instead of dragging it down. Keep in mind that factory layoffs totaling 2.7 million have accounted for all of the job losses reported over the past three years. Excluding manufacturing, payrolls hit bottom back in July, 2002, not in July of this year, as the total number shows. Nonmanufacturing jobs have already recovered all of their recession losses.
In the long run, manufacturing's destiny may well mirror that of U.S. agriculture. Better productivity means more will be produced with less, whether by smaller farm acreage or a shrinking factory sector and workforce. And because of the cost differential between the U.S. and the rest of the world, more and more American-brand factory goods will be made abroad.
In the near term, the upswing in the business cycle will provide a sizable boost to the factory sector. But cyclical gains can only function like seawalls against the constant tide. They might impede erosion, but they can't stop it.
By James C. Cooper & Kathleen Madigan
Before it's here, it's on the Bloomberg Terminal.
LEARN MORE