Takeover Talk Puts A Shine On Inco
By Gene G. Marcial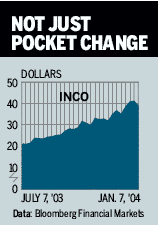 Stodgy Inco (N ), a top world nickel producer, is rocking. Its stock hit 42.09 on Jan. 6, up from 20 in July. The tight nickel market has pushed up the price to a 14-year high of nearly $8 a pound. The next day, when profit-taking eased the stock down to 39, some big Inco fans saw their chance to buy more.
Adding to Inco's allure: takeover. The talk among some pros is that Anglo American, the global mining company, is mulling a bid. Anglo couldn't be reached for comment. Forstmann-Leff Associates, which already owns 4 million shares, or 2%, continues to buy. "Nickel prices will hold at around $7 to $8 this year, which would be a boon to Inco," says Forstmann Chairman William Harnisch, who has a 12-month target of 55 for the stock.
The Street, as well as the producers, underestimated the demand for nickel -- even as demand has continued to rise in step with the global recovery, he says. Harnisch figures Inco could earn $5 to $6 a share in 2004, far above Zack's Investment Research consensus estimate of $2.74. Daniel Roling of Merrill Lynch, (MER ) who rates the stock a buy, says strong Chinese consumption is boosting world demand.
Note: Unless otherwise noted, neither the sources cited in Inside Wall Street nor their firms hold positions in the stocks under discussion. Similarly, they have no investment banking or other financial relationships with them.
See Gene Marcial on Fridays at 1:20 p.m. EST on CNNfn's The Money Gang.
Before it's here, it's on the Bloomberg Terminal.
LEARN MORE