Not Just A Temporary Employment Lift?
Temp hiring seems to be on a steady rise at last -- and that's a good sign for the whole job market
After months of fruitless job-hunting, Albert T. Longden finally lucked out four months ago. The former book publisher found a temporary post as finance director at the Internet unit of the New York-based American Bible Society. And it could be more than temporary. "The chances are good -- at least I'm knocking on wood -- that it will turn permanent," says Longden, 57.
Longden is on the leading edge of a classic jobs recovery -- one that begins with a lift in temp employment. Research by Daniel Sullivan, a senior economist at the Federal Reserve Bank of Chicago, and others shows that an uptick in temp jobs precedes an increase in overall employment by three to six months. And with temp jobs beginning to grow last May, sure enough, total nonfarm payrolls began to inch up in September.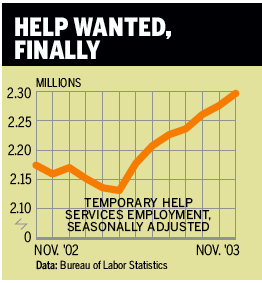 The fact that temp employment has picked up since bodes well for more jobs overall in 2004. The temp-job total rose nearly 8% from April through November, when it hit 2.3 million, and could rise 6% to 7% in 2004, estimates the Harris Nesbitt Gerard brokerage firm. Forecasters at Economy.com Inc. say that overall payrolls could grow at a rate of 150,000 to 175,000 a month by summer, vs. an average of roughly 100,000 in recent months. "We're on the right track," says Brian Nottage, a senior economist at the West Chester (Pa.) consulting firm.
With demand for goods and services rising fast, many U.S. companies are ready for more workers. Fearful that demand won't last, however, few will risk big staff hikes. Even now, only a fifth of some 16,000 U.S. employers surveyed by Manpower Inc., (MAN ) the staffing company, expect to hire in this year's first quarter. Another survey, by staffing firm Robert Half International Inc., found only 7% of some 1,400 chief financial officers expecting to hire permanent accounting and finance professionals.
BUILDING CONFIDENCE. As a stopgap measure, companies facing strong demand have been hiring temporary workers. But the longer the recovery lasts, the more confidence they will gain that the expansion is durable. Already, they're beginning to make some of their temps permanent, while also boosting overall hiring so their workforce isn't overstretched. Even long-suffering industries have selectively resumed hiring. Silicon Valley was "dead as a dormouse" for the past couple of years, says San Jose (Calif.) engineer June B. Babilla, who has worked on a temporary contract for the past 11 months running computer systems at a major electronic-hardware maker. Now, she says, "I expect a good year."
Of course, optimism about a reawakening economy rose early in 2003, too. That was before the Iraq war put a chill on things. This time around, before committing to permanent slots, companies want to make sure that "this economy truly does have legs," says Brett A. Good, a San Francisco director of Robert Half's Accountemps unit. That's why temp employment is still increasing. If the economic expansion lasts, a surge in overall employment is likely to follow.
By Joseph Weber in Chicago
Before it's here, it's on the Bloomberg Terminal.
LEARN MORE