A combination of government stimulus and abundant rain boosted India's growth rate in the third quarter to a six-year high. And optimism is growing for 2004.
India's third-quarter real gross domestic product increased 8.4% from previous-year levels. Agriculture showed vast improvement. A higher-than-normal amount of rainfall during the monsoon season boosted farm production. Food-grain output probably hit 220 million tons in 2003, a 21% surge from the drought-ridden levels of 2002.
The industrial and service sectors also showed accelerated growth in the third quarter. A stimulative federal budget is boosting consumer demand. And since April, the Reserve Bank of India has left its target policy interest rate at 6%, the lowest in three decades.
Accommodative economic policy will keep the momentum going into 2004 at the same time that increased harvests will boost the incomes of rural Indians, who make up the vast majority of consumers.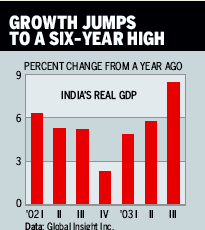 As a result, India is set to be one of the fastest-growing economies this year, perhaps eclipsed only by China. The Jan. 4 signing of the South Asian Free Trade Area pact is another plus for the region, as are peace talks between India and Pakistan set for February. Already investors have pushed up the Bombay Sensex stock index by 72% over the past year.
The upbeat outlook also reflects India's structural shift from a mainly agricultural economy to a more diversified and advanced technology center. Manufacturing production was up 6.2% in the year ended in October. And rating agency ICRA projects that India could capture 56% of the new outsourcing business over the next three years.
The main risks to the outlook are in the political and global arenas. Because of the rupee's 6% rise vis-à-vis the dollar in 2003, export growth is slowing. And long-term reforms, such as cutting farm subsidies, could take a backseat if the government of Prime Minister Atal Bihari Vajpayee moves up the national elections now scheduled for September. But despite such possible political maneuvering, India is on track to grow by at least 6% this year.
By James C. Cooper & Kathleen Madigan
With Manjeet Kripalani in Bombay
Before it's here, it's on the Bloomberg Terminal.
LEARN MORE