U.S.: The Tea Leaves Still Say "Happy New Year"
Never mind those downbeat reports -- this economy has momentum
Just before the holidays, the government released two jarring economic reports for November. One showed orders for durable goods plunging 3.1% from October, the largest drop in more than a year, including a sharp decline in orders for capital goods. The other showed the consumer price index falling 0.2% from the previous month, while the more stable core index, which excludes energy and food, declined 0.1%, the first outright drop in 20 years.
These numbers run counter to the general belief that an economic revival is rekindling capital spending and lifting the manufacturing sector out of its doldrums, and that stronger demand and a weaker dollar are putting a floor under the inflation rate. What gives? Is the recovery more fragile than generally perceived, and are deflationary forces still undermining the outlook?
Almost all of the other economic data available say no to both questions. Since April, for example, the Conference Board's index of leading indicators, a composite of data that foreshadow the economy's path, has posted the largest seven-month advance in 12 years. Also, the pace of industrial production is accelerating, led by strong gains in the output of capital goods, especially info-tech gear. Plus, surveys generally show that manufacturers remain upbeat about the future.
On inflation, the November CPI almost certainly overstates the weakness in pricing, since broad reflationary forces are gradually gaining the upper hand. First, monetary policy is actually encouraging inflation. And second, the economy is slowly beginning to absorb some of its slack. Labor markets are improving, and manufacturing capacity, outside of motor vehicles and high tech, has shrunk by 0.8% over the past two years. Recent price trends for retail goods, imports, and commodities reflect these influences.
ON THE FACE OF IT, November's steep 5.9% drop in capital-goods orders excluding aircraft seemed particularly discouraging, given that businesses are expected to share more of the burden of generating demand in 2004. However, the monthly pattern of these numbers is one of the most volatile of all the government data. The three-month average, which is a better indication of the trend, continued to rise in November, as it has done for most of this year (chart).
Shipments of capital goods are also on a rising trend, and through November they stood well above their third-quarter average. That means equipment investment is set to contribute solidly to fourth-quarter economic growth. Moreover, the trend in unfilled orders is up sharply, a sign that additional production is already in the pipeline.
Overall factory orders, including those for capital goods, will likely rebound in coming months, perhaps strongly. At worst, the November orders data suggest that capital spending is not in an outright boom. However, the upturn in business outlays has been under way for about a year now, fueled by strong profits, less economic uncertainty, and rising demand.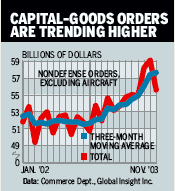 The expectations for demand gains, both domestically and abroad, are increasingly bright. Thanks to the weaker dollar, plus economic growth in Southeast Asia and in Europe, U.S. exports are gaining ground. In the six months through October, the growth rate of exports of goods and services accelerated to an annual rate of 17.6%. Exports had declined in the previous six months.
HERE AT HOME, consumer spending is ending the fourth quarter stronger than it began. After declining 0.2% in September and edging up only 0.1% in October, real household outlays for goods and services jumped 0.5% in November, and December spending should show a further advance. Real consumer spending is on track to grow in the range of 2.5% to 3% in the final quarter -- not too shabby, coming after the third quarter's 6.9% surge.
Consumers seemed disheartened over the weak November employment report, as reflected in the dip in the Conference Board's December index of consumer confidence. Still, the index for the fourth quarter remains well above its third-quarter level.
The mood should brighten in early 2004: The job markets are firming up, and consumers will get another financial boost, because federal tax refunds will be bigger than normal, thanks to the 2003 tax cuts. Economists at Merrill Lynch & Co. (MER ) calculate the total amount of tax refunds in 2004 will be 30% larger than the amount mailed out in 2003 -- a huge increase, by past standards.
The continued advance in demand comes at a time when inventories are at record lows. As a result, most stores will not feel compelled to hold fire sales to move merchandise. That was one reason why retailers did not have to discount holiday merchandise in 2003 as drastically as they did in previous years.
TIGHT INVENTORIES and the pickup in demand are why the November drops in the price indexes do not merit much worry. Several one-time factors weighed on the price indexes. For instance, the 0.1% drop in core producer prices can be traced partly to fallbacks in prices of drugs, clothing, and appliances following increases in October. Those price swings carried into the index covering core consumer prices. In addition, vehicle prices fluctuated as the Labor Dept. adjusted for quality improvements between the 2003 and 2004 models.
But upward price pressures, however small, are building. Already, goods producers are paying more for inputs. Core crude material prices were up 17.1% in the year ended in November.
Labor costs -- the biggest expense for companies -- will also increase as hiring picks up. And unlike in 2003, productivity gains in 2004 won't completely offset the rise in compensation. So companies will try to recoup those higher costs through price increases. To be sure, the gains won't be much, but core inflation is certain to end 2004 higher than its pace of 1.2% or so in 2003.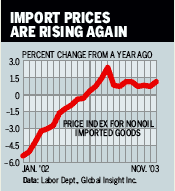 The weaker dollar also argues that inflation has hit bottom, or will soon. When the dollar was rising from late 2000 until early 2002, U.S. prices of imports excluding oil fell, and American goods producers had to cut their prices to compete. But since the dollar peaked in 2002, import prices have begun to creep up. In the year ended in November, nonoil prices were up 1.1% (chart). That small rise gives U.S. manufacturers some elbow room to lift their own prices.
Perhaps most important, the Federal Reserve seems willing to tolerate some pickup in inflation, which means short-term interest rates will remain exceedingly accommodative to growth in 2004. The Fed would like corporate profits to increase further in order to keep capital spending on the rise. And policymakers want to ensure that the recovery strengthens enough to eliminate the risks of deflation.
Right now, this economy is clearly positioned to put deflationary fears to rest. The downbeat readings for durable-goods orders and the price indexes look more like aberrations than omens. Between the stimulus of big tax refunds and pent-up business demand, the U.S. economy starts 2004 with a great deal of momentum.
By James C. Cooper & Kathleen Madigan
Before it's here, it's on the Bloomberg Terminal.
LEARN MORE