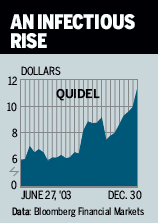 With influenza on a rampage, shares of Quidel (QDEL ) are grabbing the Street's attention. Quidel provides a broad array of rapid-result diagnostic tests, such as the Quick Vue flu test. "The test will strongly drive up revenue growth worldwide as we enter the peak season for the flu and other infectious diseases," says Adam Chazan of Pacific Growth Equities, who has a buy rating on Quidel.
Already, the stock has leapt from 6 in October to a high of 11. Matt Arens of Kopp Investment Advisors, which owns 4.4 million shares, or 15%, says Quidel has the ability to sustain a yearly earnings growth rate of 35% to 40%. His 12-month target is $17. The tests are done by nasal swab at doctors' offices and hospitals. With an accuracy rate of 96% to 98%, the test detects if a patient has the flu or similar pathogens that mimic the flu. The results, ready in 10 minutes, help prevent misdiagnoses, says Chazan. The flu afflicts some 30 million Americans each year.
Quidel has 52% of the flu test market -- accounting for 28% of total revenues -- and beats out rivals Becton Dickinson (BDX ) and Thermo Electron (TMO ), notes Chazan. CEO S. Wayne Kay says a new flu test will be launched in Japan in January and should raise Quidel's 28% share of the flu test market there. Al Kildani, of investment firm C.E. Unterberg, Towbin, rates Quidel a buy: He sees it earning 15 cents a share on sales of $85.7 million in 2003 and 35 cents on $95.5 million in 2004.
Note: Unless otherwise noted, neither the sources cited in Inside Wall Street nor their firms hold positions in the stocks under discussion. Similarly, they have no investment banking or other financial relationships with them.
By Gene G. Marcial
Before it's here, it's on the Bloomberg Terminal.
LEARN MORE