TLC Vision Is Eyeing Macular Degeneration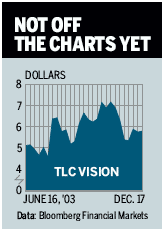 Laser eye surgery is picking up -- thanks partly to the economic recovery. Some pros are betting big on TLC Vision (TLCV ), with 61 centers in the U.S. and five in Canada where its own ophthalmologists do laser operations. Trading at 4 in early June, TLC hit 7.54 in October, before easing to 5.84 on Dec. 17. The product of a 2002 merger, TLC has cut costs and streamlined operations, notes Trevor Li of researcher Octagon Capital. He sees TLC earning 38 cents a share in 2004 on revenues of $251 million. Prices have stabilized, and volume is growing, says Li.
But there's more: S.G. Cowen's Peter Bye says TLC has a promising treat-ment for age-related macular degeneration (AMD), which afflicts 10 million people over 50. Called Rheophoresis, the remedy is in phase 3 trials and is set to launch in 2005. Rheophoresis is a blood-filtration process to remove certain molecular plasma proteins and lipoproteins that contribute to AMD. Clinical data are positive, says Bye, who says pretax earnings of $40 million for 2004 "could nearly double in 2005 -- with Rheo." Bye's 12-month price target is 10. But counting Rheo, he reckons on 15 or 20.
Note: Unless otherwise noted, neither the sources cited in Inside Wall Street nor their firms hold positions in the stocks under discussion. Similarly, they have no investment banking or other financial relationships with them.
By Gene G. Marcial
Before it's here, it's on the Bloomberg Terminal.
LEARN MORE