Japan: A Lot Of Drag On This Recovery
Japanese business confidence is at levels not seen since 2000. But a strengthening yen and deflation are leaving Corporate Japan with a cautious outlook for 2004.
The Bank of Japan's Tankan survey of business confidence climbed to 11 in December, from 1 in September (chart). The strong showing points to a further pickup in economic growth for the fourth quarter. Even small- and medium-size factories, as well as nonmanufacturers of all sizes, reported better conditions -- a good indication that the domestic economic environment is finally turning around.
At the same time, businesses were a little less optimistic about conditions in early 2004. One reason is a slowdown in profit growth. That's especially true for large manufacturers. They expect profits in the second half of fiscal year 2003, which ends in March, to rise just 3.1% from the year before vs. a 29.1% jump in the first half.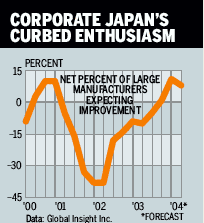 A stronger currency is a big source of concern. Japan's economic recovery is riding on a rising wave of export demand. But the yen has surged 11% against the U.S. dollar since July. If the yen keeps gaining, exporters risk reduced sales and smaller profit margins. Even an unconfirmed government sale on Dec. 10 of $9.3 billion worth of yen in the foreign-exchange market had little impact. The Ministry of Finance may hit the cumulative ceiling for foreign-currency purchases of $734 billion before the fiscal year ends unless the government includes a provision to raise the ceiling in an anticipated January supplementary budget.
Another issue is deflation. While fewer businesses said they lowered prices in the latest Tankan report, more anticipate having to do so early next year. But in general, respondents expect to pay more for raw materials in early 2004.
The rising yen and continued deflation shouldn't derail Japan's recovery, but economists don't agree on just how much of a drag they will be in 2004. Right now, economic growth forecasts range from a little under 2% to near 3%. But as long as the economy grows through 2004, it would make the current recovery the longest since 1997.
By James Mehring in New York
Before it's here, it's on the Bloomberg Terminal.
LEARN MORE