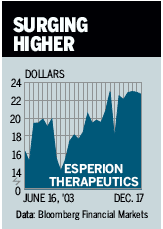 Esperion Therapeutics (ESPR ) rocketed from 17 a share on Nov. 4 to 26 on Nov. 6, when it disclosed that its intravenous drug ETC-216, designed to prevent further heart attacks in people who have just had one, was "safe and well tolerated" in clinical trials. The stock has since eased to 22.30 but may zip up again, says Mark Monane of in-vestment firm Needham. Pfizer (PFE ), Genentech, (DNA ) or Aventis (AVE ) could strike a deal for any of Esperion's four cardiovascular drugs now in trials, he says.
Pfizer makes Lipitor, the top drug for "bad" cholesterol. Monane says Esperion's products would widen Pfizer's market reach. For instance, Esperion's ETC-1001 boosts good cholesterol and reduces the bad. Recent trials on ETC-1001 show it "inhibits progression of atherosclerosis," says Matthew Geller of CIBC World Markets, who rates the stock a buy. Esperion has three intravenous products, including ETC-216, for which Pfizer has the right of first refusal. Another is ETC-588 for carotid atherosclerosis. Needham's Monane says a deal to co-develop and co-market the drugs may come in three months. A product launch isn't expected until 2007, says Monane, who sees Esperion in the black by 2008. His price target of 25 doesn't include the impact of a deal. CIBC's Geller's target is 31, based on 2008 earnings of $1.72 a share.
Note: Unless otherwise noted, neither the sources cited in Inside Wall Street nor their firms hold positions in the stocks under discussion. Similarly, they have no investment banking or other financial relationships with them.
By Gene G. Marcial
Before it's here, it's on the Bloomberg Terminal.
LEARN MORE