With US Dataworks, Checks Clear Pronto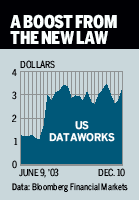 Check 21, the new law allowing electronic check clearing, has been a boon to Unisys: It signed up with 20 banks to "electronify" the process. Unisys stock rose from 13 in October to 17. But a bigger percentage gain was chalked up by tiny American Stock Exchange-listed US Dataworks (UDW ), up from 1.50 in June to 3.24 on Dec. 10. It makes software that lets banks transmit checks electronically. Citibank, Capital One, and some Federal Reserve banks use Dataworks. Brian Ladin of Bonanza Capital, which owns shares, says the stock will push higher as electronic check processing catches on. Dataworks' counsel John Figone says that, of the estimated 42 billion checks written each year, Dataworks could handle 1.3 billion when Check 21 takes effect, on Oct. 28, 2004. Industry sources say Dataworks, which has links with Thomson Financial, charges 4 cents to 7 cents per check. Paul Sethi of Vertical Ventures Investments, which owns shares, sees Dataworks in the black in 2004, earning 10 cents a share on sales of $6 million. In 2005, he sees 31 cents on $13 million, and in 2006, 67 cents on $23 million. Sethi sees the stock at 6 in a year.
Note: Unless otherwise noted, neither the sources cited in Inside Wall Street nor their firms hold positions in the stocks under discussion. Similarly, they have no investment banking or other financial relationships with them.
By Gene G. Marcial
Before it's here, it's on the Bloomberg Terminal.
LEARN MORE