U.S. GDP Revisions: The Recovery's Lift Is Slower For Workers
The much anticipated U.S. rewrite of economic history hardly alters perceptions of the recent past. But the data do give reasons to be optimistic about the future.
The Commerce Dept.'s Dec. 10 comprehensive revisions to gross domestic product from 1929 up to the second quarter of 2003 show little change in economic growth of the past few years. During the recession, real GDP shrank 0.5% instead of 0.6%. And from the third quarter of 2001 to the second quarter of 2003, the economy grew 2.6%, not 2.7%.
Of more interest to the outlook are the new data on income. Businesses and workers alike earned more money so far in this recovery, but not by an even margin.
Total national income was revised higher by increasing amounts, so that by 2002, there was $967 billion more income. Much of the gain came from an inclusion of certain taxes into the income accounts. But Commerce also says that corporate profits have grown at a far faster pace in this recovery than first thought, mostly because companies had to expense fewer stock options exercised by workers. In the second quarter of 2003, profits totaled more than $1 trillion, 14% higher than the $897 billion previously reported.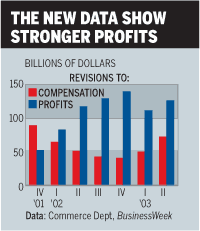 Wages and salaries grew as well, but the gain was not as large. Pay in the second quarter totaled $6.17 trillion, up just 1.2% from the old $6.09 trillion figure.
What the data suggest is that companies relied more on cost-cutting in this recovery than was first thought. The resulting productivity growth benefited capital more than labor. The data also explain why workers have been so pessimistic in this business cycle, even though the unemployment rate did not rise much by historic standards.
Still, the income revisions add to the case for a stronger 2004 economy. Corporations have the cash to keep boosting their capital spending. And increased demand should accelerate the revival in job growth. As a result, labor will capture more of next year's increase in income, both through new hirings and from gains in real wages as the labor markets tighten and inflation stays low. The upshot is that consumer spending should do well in 2004 even as the stimulus from tax cuts and mortgage refinancing wanes.
By James C. Cooper & Kathleen Madigan
Before it's here, it's on the Bloomberg Terminal.
LEARN MORE