U.S.: Business Takes A Turn At Powering The Recovery
It's fueling growth by buying new equipment and rebuilding inventories
This is the time of year when consumers get top billing. After all, the holiday shopping season is the make-or-break period for many retailers. But obsess too much over the weekly store reports, and you might miss a new and important angle in this quarter's economic story: For the first time since 2000, businesses, not consumers, are supplying the lion's share of growth in real gross domestic product.
Fueled by a burst of profits that have consistently beat expectations most of this year, companies from small tech-industry suppliers to large multinational corporations are buying equipment at rates not seen in three years, and they are shelling out money to replenish depleted inventories. The ripple effect of more business demand extends all the way to U.S. manufacturers, where orders and production are on the rise after three years of stagnation. And the turnaround isn't just homegrown: Foreign demand is on the mend, too.
This isn't to say that consumers have shut off the spending spigot. Although household purchases got off to a poor start in the fourth quarter, reflecting a drop-off in car sales when summer discounts ended, early reports suggest the holiday shopping season is looking good. Plus, vehicle sales rebounded to an annual rate of 16.8 million in November, up sharply from 15.6 million in October, as dealers offered a fresh round of incentives. And rising aftertax income indicates consumers have the financial muscle to keep spending into 2004.
But the big story this quarter is the recovery's shift from consumer-led to business-led demand in the forms of capital spending, inventory rebuilding, and exports. The nation's purchasing managers report the industrial sector is the busiest in two decades. Durable-goods manufacturers say activity will stay strong, given rising orders for both consumer and capital goods, a growing backlog of unfilled orders, and the first uptick in inventories in about a year. More important, this renewed vigor is helping consumers, since the the new demand strength is bringing the labor markets back to life.
The bottom line is that the recovery no longer depends on the temporary lift from tax cuts and refi money. The corporate sector's heftier contribution to growth, and the new hiring that accompanies it, mean that the recovery finally has the power to sustain itself.
THE CLEAREST SIGN YET of the recovery's new vitality is the strong set of indicators coming from the manufacturing sector. From May to October, durable-goods orders have increased faster than in any five-month period during the 1990s. In November, the Institute for Supply Management's index of industrial activity across the nation corroborated the very strong showings of the regional indexes from the Chicago, New York, and Philadelphia areas. The ISM index, covering production, orders, employment, inventories, and delivery speeds, jumped to 62.8%, a 20-year high (chart). A reading greater than 50% means the factory sector is growing.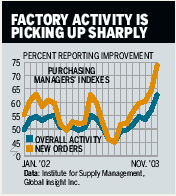 Of particular note, the ISM's index of new orders also hit a 20-year high, and its employment index rose above 50% for the first time since 2000. That's a sign that factory payrolls, after shedding 2.4 million jobs since the start of the recession, are beginning to firm.
Moreover, the new bustle in activity is tightening up the slack in manufacturing. More businesses report slower delivery times than at any time since the boom of late 1999. Not surprisingly, given those demand conditions, more purchasers say prices are rising.
SOLID GAINS IN DEMAND, along with the prospect of more pricing power, are persuading revenue-seeking businesses to dust off their capital-spending plans and move forward. Some of this new demand is going abroad. Imports of capital goods are now up for two consecutive quarters. But American producers are also benefiting. U.S. output of business equipment is now heading upward after a long period of weakness, and orders for capital goods excluding the volatile aircraft sector have turned up sharply in recent months. (chart).
Moreover, the backlog of unfilled orders, after shrinking for three years, is growing again at a rapid clip. That means U.S. makers of capital goods are not keeping up with new demand, a sign that production schedules will have to be boosted. Faster production is the reason the factory sector should see some hiring -- or at least the end of layoffs -- in 2004.
The biggest beneficiaries right now have been the makers of tech equipment, which accounts for 50% of all equipment spending. Adjusted for falling tech prices, real business purchases of tech gear, ranging from computers to software to communications equipment, grew from the second quarter to the third quarter at an annual rate of 22.5%, a pace similar to those seen in the late 1990s. But even in unadjusted dollars, the level of tech outlays has recovered all but a smidgen of the losses suffered during the recession.
So far this year, real outlays for computers and peripherals are growing at an annual rate of 40.3%. Software outlays are up 10.5%. And even spending on telecommunications equipment is rapidly emerging from its steep slide, growing at greater than a 15% pace for three quarters in a row. From 1995 to 1999, telecom outlays grew at an average rate of just over 13%.
The next leg of the capital-spending recovery will involve investing in more traditional machinery and business construction. That phase will kick in during 2004, when businesses look to expand their operations. The weakness in both sectors appears to have bottomed out, based on the latest GDP data, but growth in these types of investments will require higher utilization rates of existing production capacity.
ANOTHER KEY FORCE in the business-sector rebound is the need to rebuild inventories up to levels that will support the faster pace of demand. The level of stockpiles in relation to sales is already far below its long-term trend, and businesses are trying to catch up. Inventories of durable goods rose 0.2% in October, the first increase in ten months; but since May, inventories have shrunk by 2.3%, while shipments are up 5.5%.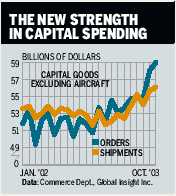 Of course, the business turnaround will depend on demand remaining solid. And here the news remains optimistic. In addition to heightened U.S. business spending and resilient consumer shopping, foreign demand is also picking up. Asia leads the way, but Europe is beginning to stir, just as U.S. producers are gaining more competitiveness from the dollar's fall against the euro. Exports in the third quarter surged at an 11% annual rate, after three quarterly declines. Moreover, in October and November, the ISM's index of export orders hovered at levels not seen since 1995.
All this is a recipe for accelerating orders, output, and overall activity in the business sector. The upshot is that the recovery is no longer as dependent on consumers as it has been. Corporate America is now taking up the baton, providing the extra demand, hiring, and household income that will ensure a lasting recovery.
By James C. Cooper & Kathleen Madigan
Before it's here, it's on the Bloomberg Terminal.
LEARN MORE