High Tech At The Hospital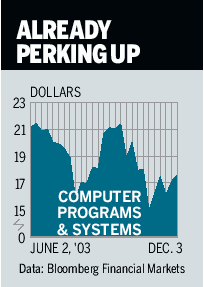 Little-known Computer Programs & Systems (CPSI ), which designs information systems for rural hospitals, has been under the weather -- till lately. The stock dropped from 21 in June to 14 in October. It has since perked up -- to 17.83 on Dec. 3. Some pros think CPSI will get a boost from the recent $400 billion Medicare bill. The new law, says Joel Ray of Wachovia Securities, raises reimbursements to rural hospitals by an estimated $25 billion over 10 years.
Dennison Veru of Palisades Capital Management, with a 7.1% stake in CPSI, notes that 500 small hospitals (fewer than 300 beds) in 45 states use CPSI to manage patient-care, clinical, and financial data. Among America's total of 4,900 rural hospitals, 80% are this small. With Medicare's cash infusion, many of these will now have funds to install CPSI gear to cut costs, says Veru. Analysts haven't yet adjusted their numbers to include the impact from the new bill. James Terwilliger of securities firm Morgan Keegan, who rates CPSI outperform, estimates earnings of 75 cents a share in 2003 and 94 cents in 2004 -- before any Medicare effect. Veru says "earnings should kick up" by 2005. He sees the stock at 30 in a year.
Note: Unless otherwise noted, neither the sources cited in Inside Wall Street nor their firms hold positions in the stocks under discussion. Similarly, they have no investment banking or other financial relationships with them.
By Gene G. Marcial
Before it's here, it's on the Bloomberg Terminal.
LEARN MORE